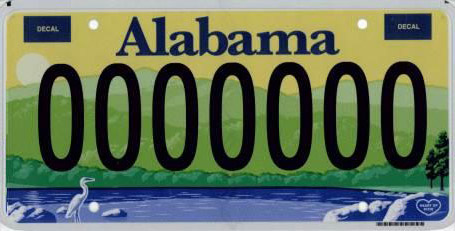 Alabama License Plate Design
Alabama Plate Serial Formats:

0AB1234
01AB234
License plates in Alabama don't just say "Sweet Home" or "Heart of Dixie". In fact, they can tell you almost everything about the condition and history of vehicles. After all, license plates are good for this in any state. Just try Alabama license plate search and see it for yourself. The service is legal and free.
A quick Alabama license plate lookup delivers impressive results. In a matter of minutes, you can get to know whether a car has been stolen or whether there are any liens against it. The search also works for motorcycles, trucks, and other types of vehicles that have license plates on them. All you need to do is find the plate number, type it into our form and press the 'Check' button.
Tips and Tricks
To get the best results from Alabama license plate number lookup, follow these simple rules.
Look in the right place. The state law says that vehicle owners should place license plates on the rear side of their vehicles, regardless from the type of the latter.
Know where to find out more. Alabama license plate lookup free services only give you the basic information about the condition of the car. It shows whether a vehicle has been stolen, resold or re-possessed, whether it was or is subject to loan contacts or manufacturer's recall, and whether it was involved in accidents. Which is, frankly, not too much. However, there is a trick that will let you know more. Alabama or Arkansas license plate search will both give you VIN, a 17-digit identificator of a vehicle. Now, VIN is a real treasure. A subsequent VIN check reveals almost everything.
Don't be nosy. There are things you just can't get checking online. Don't hope to acquire personal data of the previous owners of a vehicle. This kind of search is illegal. You can get the details that you need by contacting the police or local DMV. Still, personal details are not necessary to protect yourself from scam. In most cases, it is enough to spot the mismatch in titles and look into the property and accidents records.
Search Results Explained
If you're lucky enough, you don't really know what are those liens or recalls. Let's get a little bit deeper into this.
Cars (and sometimes other vehicles) can be recalled by manufacturers if it turns out that some model has critical defects. In such cases, the recalled vehicles need to be repaired. Many car owner and dealers are too lazy or too busy to follow this procedure. Therefore, their cars go without repair but with leakages, out-of-order breaks, or dysfunctional airbags. Our records will show you whether a car had been recalled and whether it was repaired after that.
A word lien means that a vehicle is used to secure a loan payment. If a debtor fails to pay, a creditor may sell the property, in our case car. You don't want your car to be involved in manipulations like this.
Alabama Laws on License Plates
The state of Alabama is known for its habit to replace license plates completely over 5 years. No one really can tell you why. Some officials explain that this is a legal requirement; others state that in this is the time span license plate covers can get worn out.
Another interesting fact is that Alabama residents get their plates from the state DOR, or Alabama Department of Revenue. A temporary plate is valid for 20 days. You should display it in the window in the rear side of your vehicle.
Auburn
Birmingham
Decatur
Dothan
Florence
Gadsden
Hoover
Huntsville
Madison
Mobile
Montgomery
Prattville
Tuscaloosa
Vestavia Hills