Do you want to learn about the engine, transmission, or any other vital info about your car? Would you like to find out when and where the car was produced? It's easy! You only need to use our free, handy, and intuitive VIN decoder.
What is a VIN Decoder?
Well, it is a great online tool that can help you, as well as car buyers or car owners, to learn all the vital info about the vehicle in a matter of seconds. All you need to do is to enter the VIN number of your car or the car you want to check and click the decode button. All the info on your car or the car you want to buy will appear on the screen within seconds.
If you want to buy a car and feel uncertain about its origin, its stuff under the hood or other things like model and the year of production, free VIN decoder is just the tool you need. Or maybe you want to make sure the car you want to purchase wasn't damaged, stolen or modified in some illegal way. Moreover, it will give you a clear picture about the real price of the car on the market.
How to Decode a VIN Number?
Now, let consider how to decode the VIN number. First of all, you need to know your VIN. What is it? It stands for a vehicle identification number. Usually, it is an authentic set of 17 characters without the letters Q (q), I (i) and O (o). They are excluded so as not to create the confusion with numbers (0 and 1). This code is usually printed in a line and contains no spaces.
This system was first introduced in the U.S. in 1981. It doesn't apply to all the vehicles however. You can find these VIN ids on cars, motorcycles, buses, vans, RVs, trucks, SUVs. They help people make sure everything is OK with the vehicle they are going to purchase.
Where to Find the VIN?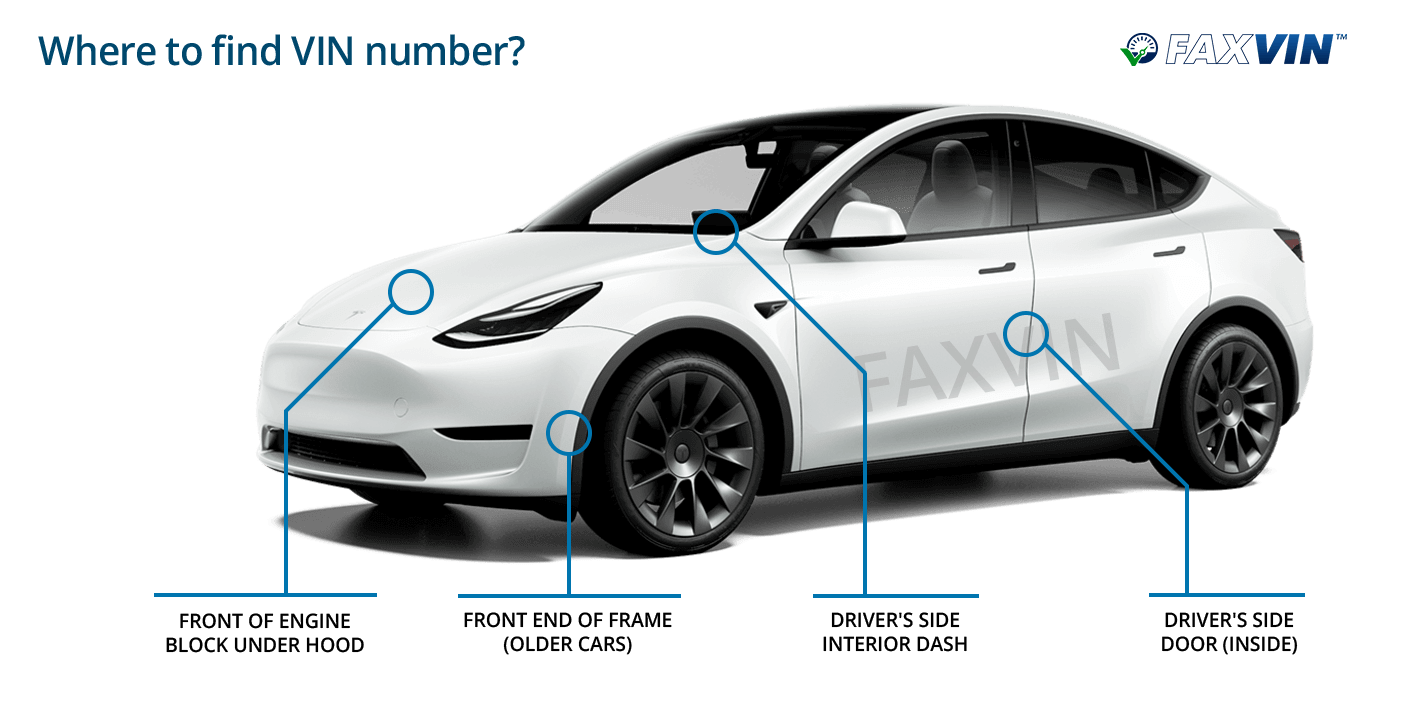 The next step that you need to take to decode your VIN code or ID is to find it. In fact, there are several spots on the vehicle you ought to check for it. They are dashboard, engine block, and the driver's door.
Once you find the VIN id of your car, put it in our online decoder and get all the necessary info for free.
Of course, if you want to learn more about the vin information, feel free to check the section below.
Vehicle Specs by VIN
So, what information can you learn from the unique VIN code of your car? Well, once you decode you'll get all the key info:
The make of the car
The exact year when it was produced
The model of the car
Its unique plant code
Authentic production number
The manufacturer and country where the vehicle was produced
Engine type. You'll discover what type of engine is installed there
Transmission type. You'll find out what type of transmission is used
Safety, brakes and other specifications
In fact, vin identification info can protect you from falling a victim to fraud or buying a bad quality car.
Checking and decoding VIN id online can save you time and money. That's why we recommend you use our reliable and trustworthy decoding tool. It will definitely help you be on the safe side when making a car purchase. Just give it a try!
Sample VIN Numbers
1FTFW1CT5DFC10312 — 2013 Ford F-150 (3.5L V6 TURBO), CREW CAB PICKUP 4-DR
1GC5CZEG0F0017106 — 2015 Chevrolet Silverado (6.0 Li), Pickup
4T1BG28K81U790207 — 2001 Toyota Camry (2.2L L4 DOHC 16V), SEDAN 4-DR
WBA5B3C50GG252337 — 2016 BMW 5-Series (3.0L L6 DOHC 24V), SEDAN 4-DR
JN1AZ4EH7DM430111 — 2013 Nissan 370Z (3.7L V6 DOHC 24V), COUPE 2-DR
What are the Stages of the Decoding Process?
Now you know all of the key info about VIN and are ready to proceed. What's next, you ask? There are 4 simple steps that you should take in order to decode your vehicle for free and get all the important info about it.
Put the VIN number into our user-friendly decoder
Hit the Decode button
Get free specs report in a matter of seconds
Read it on your mobile device or laptop
As you can see, it is quite easy to avoid unnecessary risks when buying a used car.
Are you ready to test our decoder? It's free, fast and will definitely be of help to you! Give it a try now!
Alfa Romeo
Alpina
AM General
Aston Martin
BAW
Bentley
Brilliance
Bugatti
BYD
Can-Am
Chery
Citroen
Coachmen RV
Crossroads
Dacia
Daewoo
DAF
Daihatsu
Daimler
Datsun
Ducati
Dutchmen
Eagle
Ferrari
Fiat
Fisker
Fleetwood
Forest-river
Geely
Geo
Grand Design
Great Wall
Hafei
Haima
Heartland
Hino
Holiday Rambler
Husqvarna
Indian
International
Isuzu
Iveco
Jaguar
Jayco
K-Z RV
Kenworth
Keystone
KTM
Lamborghini
Lancia
Lifan
Lotus
Mack
MAN
Maserati
Maybach
McLaren
Mercury
Moto Guzzi
Oldsmobile
Opel
Oshkosh
Panoz
Peterbilt
Peugeot
Plymouth
Prime Time RV
Renault
Rolls-Royce
Rover
Saab
Scania
Scion
Seat
Skoda
Slingshot
Smart
Spyker
SsangYong
Starcraft
Thor Motor Coach
Triumph
Vauxhall
Victory
Winnebago
Yugo