Are you dreaming of buying a car but still have doubts about its overall state? Would you like to discover its real type and current specifications in a matter of minutes? No problem! You can do it here, at our website. All you need to do is run a completely VIN Check.
In fact, our main goal as a leading online check service is to provide you with the best VIN search tools available at the moment and the latest information about the car you are going to buy. You are sure to get all the necessary info on the car of your choice in the form of a free vehicle history report in a couple of minutes.
If you perform a VIN search at our site, it will be up-to-date, in-depth, and fast. Moreover, it will reveal you all the key aspects you may want to know:
History of the car
The type of the car
Odometer readings
Total loss records
Accidents history
Mileage Rollback
Recalls and defects
Structural damages
Lien and repossession records
Hail, flood, fire damage
Theft and recovery records
Personal, Police or Taxi Use
Inspection, service, registration History
Other vital car specifications
Why not rely on a VIN search? All smart car buyers and dealers do it. Let our handy tool take your worries away. It is designed especially for this. It will bring you a car report in the blink of the eye. Check yourself!
Vehicle History Report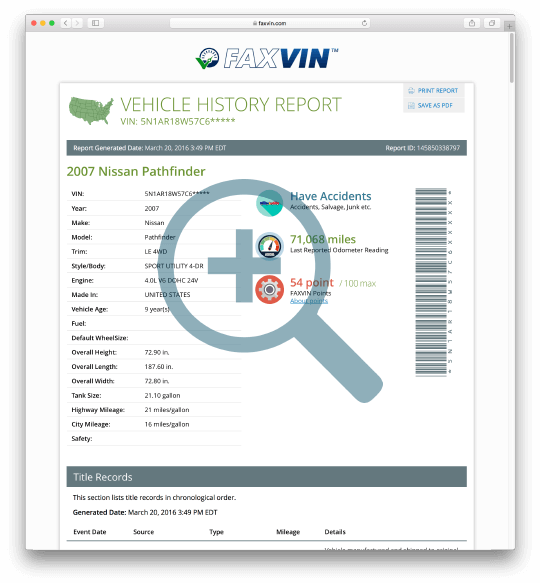 Sample VIN Check Report by FAXVIN
You may think: "Ok, great. But why should I perform a vehicle check at FAXVIN?" Well, because we offer you not just an ordinary VIN history report. We give you access to the best Vehicle History Reports available on the Web. It collects and analyzes information from reliable and proven data sources:
U.S. Motor Vehicle Title System (NMVTIS)
All major motor vehicle agencies in Canada
Insurance companies
Auto auctions
Facilities that deal with collision repair
Salvage auctions
Car dealerships
Fleet and rental vehicle companies
Manufacturers
State inspection stations
If you want to check the validity of the vehicle's specs, feel free to discover car history by VIN number.
Check car VIN will definitely save you from taking risky and unreasonable decisions when it comes to buying a used car.
Moreover, if to get deeper into the core of the VIN number check process, you will need to know that the accuracy of the search results depends on the engine and collection of car records that are scanned for getting a vehicle history. That's why we've put great efforts to develop the most effective engine that works with the vehicle data stored in the related data sources that were mentioned above.
What are the Benefits?
Indeed, as a premium VIN check service we are proud to offer you the following benefits:
DMV VIN check. Our services have won the trust of both car sellers and buyers. All the info that we include in our reports is relevant and up-to-date.
Thousands of happy customers. Thousands of clients from the U.S. and Canada choose us as a helpful resource to get comprehensive and detailed VIN ID check reports. Over 98% of them say that they are completely happy with the VIN identifying help and data reports that they received using our pro checking tool.
Unbiased data. We always provide you with 100% unbiased data as we are interested neither in selling nor buying cars. We are aimed at helping you get a clear picture of the vehicle that you want to check.
Free assistance. Yes, you get free reports as we are convinced that everyone should have access to reliable vehicle data sources to avoid unpleasant situations in the future.
How to Check the VIN?
Well, with our user-friendly and up-to-date VIN checker tool it will be a real cup of tea for you. You should try it and you'll definitely like it! 1, 2, 3, 4 and you know everything that you want to know about the vehicle, which you are going to buy. Here are 4 super simple steps for you to follow:
Find instant VIN search section at the top of this page.
Enter the number of the car that you would like to check in the corresponding field.
Hit the Check VIN button.
Voila, a comprehensive history report on the vehicle of your choice will be given to you in a couple of minutes. All you need to do is to examine it.
Checking the car for damages, accidents, mileage rollbacks, repossession and lien records, various defects as well as damages has never been so easy!
Grab this exclusive opportunity to get your complete VIN check report based on the info from reliable data sources now!