Carl White
September 2, 2017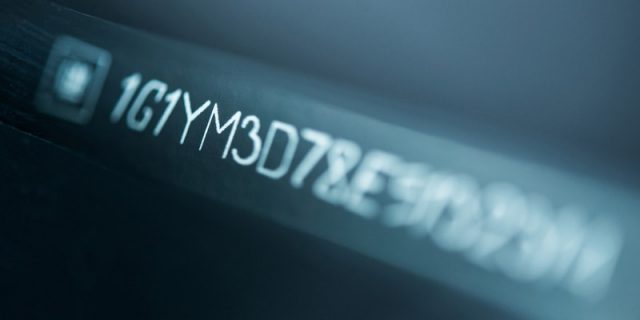 Since 1954, every road vehicle has been assigned a Vehicle Identification Number on behalf of the National Highway Traffic Safety Administration (NHTSA). Prior to 1981, cars featured VINs that were made up of less than 17 characters. Newer models come with the numbers composed of 17 letters and numerals.
A car VIN number serves as a vehicle's DNA. There are no two cars with the same identifying code in operation. This unique number contains the information on the vehicle's specific features, owners, and a manufacturer. It is used for registration operations, tracking recalls, checking vehicle history, and so forth.
Where to Find a VIN Number
There are a few different locations, where car owners can find the VINs of their vehicles. The chassis numbers can be located off and on the car alike.
If you start checking VIN numbers off the vehicle, then begin with the title of your car as well as the registration card. If this VIN number search didn't bring you any results, then continue looking through the insurance papers, owner's manual, and automobile repair records. There are also police records and the VIN lookup, where the number can be found. However, those who don't possess the above-mentioned papers, can find a VIN number on cars themselves.
More often, a car VIN number is found on the interior dash on the driver's side. However, car owners can also find it if they open a hood and look at the front of an engine. It is also possible to locate the chassis number on the rear wheel right above the tire, inside a door jamb or door-post on the driver's side, or under a spare wheel. To find VIN numbers, check all of the above-mentioned locations.
It may happen that you still can't find the code. In such a case, it is advisable to seek help from your dealership or manufacturer. However, if you were lucky enough to find the number by yourself, then write it down somewhere and keep it at hand so you can get it easily in case your car is stolen or when you are going to sell your vehicle or register it in a new state. It is recommended that you keep the VIN in an actual file and on your computer alike.
Brief Review: How to Read a VIN Number
Many people think that a VIN is made up of a series of random numerals and capital letters; however, they get it wrong. In fact, each element of the code contains certain information. Even though, reading a VIN number is not an easy task, there are many those who make deciphering VINs their hobby. Anyway, when you are going to buy a used vehicle, it is advisable to read a VIN number of the car first. In such a case, you will be sure that the auto you are going to purchase is what you really think it is.
Characters #1-2. The first two numerals or letters determine the region where the car was manufactured as well as the company which made the vehicle.
Character #3. The third character shows what kind of the vehicle it is. It may be a car, truck, bus, and so forth.
Characters #4-8. The digits and letters on these positions tell about the model of the vehicle, what type of engine it is equipped with, what its body style is, etc.
Character #9. This position doesn't mean anything. It is used to check if the code is correct.
Character #10. This number or letter will help you to find out your car's model year. Take note that the model year may differ from the year the vehicle was actually manufactured.
Characters #11-17. These digits and letters tell you about the specific features of the particular vehicle, including the name of its assembly plant, additional options, and so forth.
Before reading the code, visit your manufacturer's website to get the explanation for each character so you can decipher what exactly this combination means.
VIN Decoding Services
Except for providing basic information that includes the manufacturer and model of the car, a VIN check is also used for identifying auto theft as well as revealing additional data on the car's history. Therefore, you will need to decode VIN number when you are going to buy a pre-owned vehicle or you have your own one damaged or stolen.
Shady sellers often provide false VIN stickers to hide the real accident history of an auto. To avoid being betrayed, use an online calculator to check if the code is real or fake. However, take note that there are smart rogues who provide real stickers from similar models, no matter whether it is a passenger car, bus, or truck.
Use a VIN decoder to find out how many owners a particular vehicle had, read the odometer data, check if there were any liens placed on the auto, learn its accident history to make sure that the car wasn't involved in any accident, and check if the car is a lemon. Therefore, a good VIN numbers decoder will provide some info that will help you to make sure that you are buying from an honest seller and that the set-out price is reasonable.
There is a free VIN decoder to help you to find out the meaning of all digits and capital letters of your VIN. While most services may charge you for a full report, this one will give you basic information at no cost.
As you probably have already known, it is crucial to understand what kind of information an identification number of an auto contains. The data coded in the combination of numerals and capital letters are of great importance when you are buying a used car. It will tell you about all accidents that happened to the vehicle even if there is no visible evidence of any kind of damage caused by immersion in water and other catastrophes. Therefore, before purchasing one pre-owned auto or another, check their VINs first.