Carl White
August 22, 2017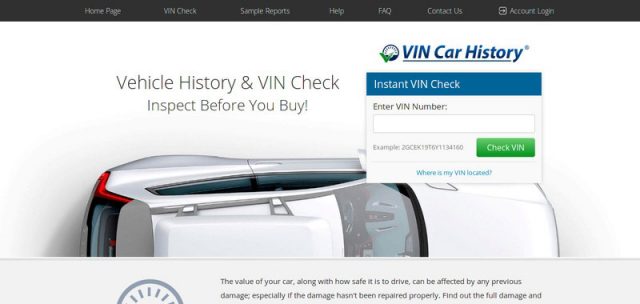 If you are going to buy a used car, you may want to know almost everything about it. Not only its main characteristics and technical features but also a number of owners, theft and accident history, junk (salvage) titles, etc. And, of course, you need reliable information in order to make the right decision whether to buy a chosen car or not.
The thing is that car owners often lie about the condition of the car and even roll the odometer back to increase the value of the car. If you don't want to pay extra money for a substandard car and if you want to choose the best one, you should buy a VINCarHistory report.
What is included in this report?
Car history report tells you about the past of the car. All information about how the car was used by previous owners. Here is the information about the car you can find out from the report:
Salvage or junk titles. If the car is declared broken by the insurance company for more than 75 percent, its resale value decreases a lot. Sometimes unfair car dealers try to sell cars of such low quality. Car history report will help you to avoid such a fraud.
Usage of the car as a taxi. Who wants to buy a car, which used to drive around the city all day long? Our company co-works with taxi agencies all over the country and if the car was used as a taxi, you will definitely know about it.
Odometer rollbacks. Everyone knows the lower vehicle mileage is the more car cost. So, some sellers try to roll the odometer back. In our report, will not only be correct mileage, but also the places of operations with the car so you will be able to ensure the mileage is right.
Accident history. The report will contain all the information about accidents the car was in (if it was, of course).
Robbery and recovery history. VINCarHistory will prevent you from buying a stolen car. If the car was recovered and brought back to the owner, you will also see that.
Number of previous owners. The report will show you amount of people who owned the car. That is necessary information because the car sellers often say are the first and only owner. If the car belonged to a company, you will also be informed.
Maintenance records. The report will contain information about exploitation and repairs of the car.
What is CarFax and what does CarFax Show?
CarFax is considered as one of the most popular companies which provide car history reports. This company was founded in the 80s and runs a business in excess of 30 years. During the years of work in the field of providing car's history data, CarFax managed to make a fine. But is CarFax as good as it is described? The thing is there are lots of stories on the Internet about absence of information about accidents and crashes.
Of course, everyone can make a mistake, but the price of one report made by CarFax is $40. The value of VINCarHistory report is only $8,95 and $18 for three reports. That is a huge difference, while taking into consideration the fact you are choosing a car in between 2 or 3 variants or even more. For example, one CarFax will cost $40 and 6 VINCarHistory reports will cost $36. As you see, cheap vehicle history report can be bought on our site.
Also, we should add that CarFax can represent only 5 reports. Our company can produce much more. Our website is free to use all over the world. CarFax, on the other hand, can be used in the USA only. Also, you use bought VINCarHistory report in excess of 180 days, while CarFax report is available for 30 days.
How to get Free Information About a Used Car
If you want to find out where you can find free information about the vehicle you are going to buy, you should use following sources. First of all, you can decode a VIN on our best VIN number check website. Having VINCarHistory VIN check is an absolutely free option and you will know when and where the car was manufactured and its main characteristics and features.
Also, you should visit the NICB (National Insurance Crime Bureau) site. If you enter VIN of your car, you will know whether your car was whenever stolen or given junk title. This would prevent you from buying stolen car or a car with a salvage title. This information will be included in VINCarHistory report, but if you want to know these facts without paying any cent, you may use this resource. Noteworthy, CarFax VIN check may be also done for free. But VINCarHistory VIN search is quicker than CarFax VIN search.
If you buy a car from a local dealer, you have to ask the dealer for a Car Fax report. All used car dealers are obliged to give such reports for free. But if the dealer refuses to do it – you should beware and leave tries to buy that used car.
But when you are looking for free information about a used car, the information you find won't be full. So we recommend you to buy a VINCarHistory vehicle history report.
Can I rely on a VINCarHistory?
Our company is providing car history reports for a long period of time. We have got a widespread network of sources: from insurance companies to mechanic stations, from police departments to vehicle registers. This helps us to collect up-to-date data and sell most informative reports.
Our company is able to provide the best VIN check service. You should just enter your VIN on our site and get your best free VIN check.
In fact, you don't buy car history report, you buy the evidence that the car you are thinking about is in good conditions. While buying VINCarHistory report you avoid unnecessary expenses and save your money.