Carl White
August 18, 2017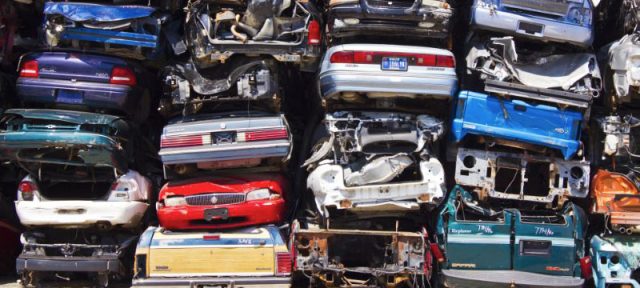 So, you've decided to purchase a used car. Your demands are super high, but you have very limited means to fulfill them. If you see an ad where an extraordinarily cheap and more or less new car is being sold – don't hurry to call the owner and drink champagne: the price might be so low because this very car is salvaged.
What Does Salvage Title Vehicle Mean
If an automobile is marked as salvaged, this means that probably it has survived a horrible crash the damage measure of which is more than 70%. After such accidents a salvaged vehicle can't be used according to the state rules, unless it has gone through a total repair or sold to a parts dismantler. In most cases, the insurance covers almost all financial aspects of the repair. But even if such cars are repaired by the best mechanics in the world – we strongly advise you not to purchase salvage title cars.
So, what is a salvaged car title? Used car buyers should always pay attention to its title status. Salvage title is definitely not one of the best and most reliable car title statuses. However, this does not obligatory mean that a car was almost crashed and then repaired. Salvage car title can have plenty of reasons, such as:
Flood damage. The term "salvage title" is used instead of "flood damage" very often. Be careful, because water does a big harm to vehicles and it will be especially hard to repair such cars. How to distinguish a car damaged by water from the "dry" one? First of all, if a vehicle was flood damaged, it can be easily determined by the condition of the noise isolation of the cabin. If the noise isolation has felt fades or a lost texture – it is a high possibility that this car was saved from drowning. A specific smell of foot cloths is also a red flag to blame flood. And finally, the main problem which arises in such cars is the electronics that won't work properly.
Theft recovery. As long as the stolen car is missing, the insurance company will pay off for it during some time. After the car is retrieved, the company has a right to resell it to a special mechanic who will replace all parts that are missing or damaged. After this, some states will give this car a salvaged status (Florida, New York, New Mexico, Maryland,, Minnesota, Oklahoma, Georgia, New Jersey and several more).
Non-repairable car. Here you should be especially careful, because while "salvaged" does not mean "hopeless", "non-repairable" means.
A car that has survived vandalism. Not a single state specifies in the title if the car was exactly a vandal's victim. Usually, a salvage title is issued instead.
Hail damage: Vehicles that were spoiled by frozen rain often receive a salvage title as well. Be careful, because hail damage is also no joke.
Is buying a salvage-title car worth it?
Well, is it bad to buy a car with salvage title? Frankly speaking, it depends, first of all, on what your expectations were before buying the automobile and how okay it's for you that your "new" beautiful car was almost smashed some time ago and still holds a great deal of risk to anyone who dares to drive it. Just imagine: you're shaking with fear while driving to your work, not to mention some further travelling (frankly speaking, if you're a happy owner of a salvaged car, it's better to forget about the latter).
What to do with a salvage title car?
Owning a salvage title car is not as bad as it may seem. Here are some benefits you can get from buying such a car:
The mileage and condition of the emergency car is usually much better than the supported options, which the owners get rid of for various reasons.
Virtually no influence on the price of such factors as the configuration, the number of options.
You get exactly what you see. The development of American auto auctions allows you to give customers the fullest possible information about the nature of damage, history and so on. When buying whole cars, alas, there are cases of concealment of history.
Here are some ways to protect yourself from future accidents:
If you've already bought a salvaged car, have it inspected regularly. Don't risk driving too long distances, because you never know what can happen to a car that has already survived an accident.
Before purchasing a car, check the reputation of its repairer. Purchase the vehicle from a reputable repairer.
Demand the repair estimate to make sure the accident was mild enough for you to buy this vehicle.
Vehicle History Report
A VIN history check allows you to evaluate the vehicle history data very quickly and easily. It's especially important to get a VIN history report if you're suspecting this very car to be salvaged.
A VIN history check includes unique data for each vehicle, such as:
Age – The age of the car at the time of getting the report.
Accurate odometer measures. Remember that many car owners are odometer fraud fans. It's very pleasant to purchase a car with a minimal mileage, but only when these data are truthful.
Vehicle class is a list of models and modifications published annually and recognized as a standard in this industry. Examples of car classes are the following: "Sports car – entry level" or "Middle class cars – standard".
Number of owners. The number of people who had owned the car you're going to buy. Yes, it can be many of them.
Emergency events. Factors such as using a car as a taxi, accidents, hijacking are also reflected in the VIN check report.
Some salvage title car owners conceal the fact it's salvaged, but a good VIN history report won't hide anything. Check car history by VIN in order not to hit a snag. And remember that there are many options to do a free car history check. Good luck!