The Department of Motor Vehicles keeps track of details pertaining to vehicles, such as who owns them, records of any accidents, title transfers, and more. This information is a must-have for anyone who wants to buy a used car as it can reveal if the car has any hidden problems or defects that could affect its value, performance, and safety.
Intelligent buyers protect themselves by ordering a DMV VIN check to deduce if they are buying a lemon. Our comprehensive DMV pull-up service covers all 50 states and Canada, giving you access to the most reliable and detailed insights.
What is the DMV?
The Department of Motor Vehicles (DMV) is a government agency that oversees motor vehicle registration and driver licensing. Depending on the state, the "DMV" goes by other names such as "Division of Motor Vehicles", "Driver and Motor Vehicle Services" or "Bureau of Motor Vehicles".
The role of the DMV is to enforce state and federal laws regarding motor vehicles. It also provides various services and information to the public, such as non-driver personal identity cards, driving permits and licenses, vehicle registrations & renewals, inspections, and emissions testing.
The information that one can get from the DMV depends on the type of service or request and applicable restrictions. For instance, you need a sufficient reason before the DMV provides information on ownership records due to enacted privacy laws.
What is a DMV VIN Check?
A DMV VIN check is a service offered by the DMV office that may allow you to obtain certain details about a vehicle from its VIN or license plate number.
Since the information is only pulled from one database, it may not provide you with all the insights you need to make a smart purchase. That's why you should try FAXVIN VIN check, a comprehensive and reliable service that can access data from multiple sources, including government ones.
With our VIN check, you can enjoy the following advantages:
All the data in one place: No need to check multiple sources or visit your local DMV;
All the insights required to make a good purchase: Accidents history, recalls, lien and repossession records, theft and recovery records, flood, hail, and fire damage, mileage rollback, vehicle specifications, personal, taxi or police use, service, registration history, and much more;
Manufacturer specs (determined from the VIN): Your model's engine specifications, transmission, body type, production year, and location of the original plant.
What is the VIN?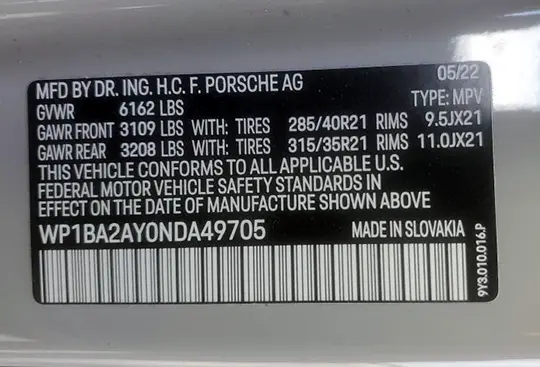 A vehicle identification number (VIN) is a unique code that identifies a vehicle and provides information about its manufacturer, model, year, and features. North American VINs consist of 17 digits and letters, except for I, O, and Q, excluded because they can be confused with other numbers.
When inspecting a car, try to spot the VIN on the vehicle by checking for it on the dashboard on the driver's side of the car, where it is visible through the windshield. Some cars may also have a second VIN location on the driver's or passenger's side door pillar. The combination of numbers and letters will be printed on a sticker attached to a metal plate for durability.
To check the authenticity of a VIN, one should look for any signs of tampering, such as scratches, mismatched stickers, or altered characters. The physical VIN should match the VIN on the manual or registration records.
Can't find the VIN on your vehicle? Search for the PDF version of your car's manual from online sources. Crosscheck the VIN's locations from the manual.
Common Risks of Buying a Used Vehicle
Buying a used vehicle can be a smart alternative to save money, but it also comes with some risks that you should be aware of. Here are some of the main risks that you may encounter when buying a used vehicle:
Car-Specific Concerns;
Don't take anything at face value. You should always question and raise doubts about the safety, performance, reliability, or value of a specific car. And to address these concerns, you can research the car's safety ratings, prior history of recalls, automotive reviews, and current market values. These can help when comparing different models and features and getting a perspective of what you're about to buy.
Dishonest Sellers;
Sellers may be dishonest about the condition or history of the car if they determine that the information can impact the price. Hiding or omitting important information can affect your decision or satisfaction.
For example, purchasing a car with previous accidents can reduce its dependability even after repairs at professional facilities. To avoid being scammed by dishonest sellers, you should always inspect the car carefully with professional guidance, ask for a vehicle history report, and scrutinize the title document.
Risks Associated with Different Locations;
Some areas are more prone to certain risks than others that could impact the quality and value of used vehicles. For example, some areas have higher rates of accidents, car thefts, hail damage, or flooding damage than others. These events can cause significant damage to the car's body, engine, electrical system, or interior.
Different Branding Specifications per State;
Each state has its own rules and definitions for branding a car as salvage, rebuilt, or total loss. This means that a car that has been branded in one state may not be branded in another state. This can create confusion and inconsistency in the car's title and history.
You should be aware of the different branding specifications per state and check the car's title carefully. You should also avoid buying cars from states that have lower thresholds or less strict regulations for branding.
Title Washing;
Title washing is a fraudulent practice where a seller tries to remove or alter the negative information on a car's title. This can make a car appear to have a clean title when it actually has a salvage, flood-damaged, or total loss title. The illegal practice can be orchestrated by moving a car from one state to another with different branding rules or by forging or altering the title documents.
To prevent title washing, you should always verify the car's title and history with online tools such as FAXVIN. Additionally, remain vigilant when buying cars in states that are final destinations of title-washed cars such as Florida or Texas.
DMV Registration Check

A DMV registration check or vehicle record request is a service provided by local DMV offices that allows you to find out information about a vehicle based on its registration number (number plate) or VIN.
Depending on the state or country where you live, you may be able to access this service online or in person at a DMV office. Some of the details you can obtain from a DMV registration lookup are:
Vehicle title and lien information;
Vehicle history report including theft or accident records;
The owner's name and address (under permissible uses);
Vehicle make, model, year, color, and VIN;
Vehicle registration status and expiration date;
Inspection history and results;
Insurance information.
Some states may have restrictions on sharing personal data, so you may need to provide a valid reason or proof of identity to access some of the information. In California, for example, some permissible uses where you can request a record of ownership include:
In connection with motor vehicle safety and theft;
For legitimate business;
In civil, arbitral, and criminal processing;
For insurance purposes;
Employment of commercial drivers;
For other authorized uses such as requesting records of a deceased person as their immediate family member.
In most cases, requesting another person's records from the DMV may not be applicable during typical car sales. That's why it may be expedient to get alternative online reports based on DMV records.
What Else Will the Report Show?
Are you wondering what info you can see from a DMV VIN registration lookup? Here are the most important categories presented in the DMV history report and why each category matters:
| Information provided | Why it is important |
| --- | --- |
| The manufacturer, type, model, and color of the car | To verify the authenticity of the vehicle, compare this information with the current state of the vehicle. The vehicle may have been severely damaged by a crash or a natural disaster and rebuilt. This car can be sold in the market as if it were the original one, but by doing a VIN lookup DMV, you will find some inconsistencies with the new modified car. |
| Manufacturer recalls | Even after a rigorous manufacturing process and safety testing, some vehicles may have flaws that only show up on the road. These vehicles will be subjected to recalls, but the owners have the final say on whether to return them or not. |
| The number of past owners | Avoid purchasing vehicles that have had many owners before. |
| Registration places | The sellers may not be honest about the number of previous owners and the distance traveled by some vehicles, especially those that are imported. |
| Whether the car was used for tax services, military, police, or any other use | The car suffers more wear and tear depending on how it is used. |
| Accidents if any | To assess the car's condition and history, you need to find out how many times it was involved in a collision and whether it received proper repairs afterward. Additionally, the number of accidents may indicate that the car has been used more than the seller claims. |
| Interference on mileage and odometer | Odometer fraud is a common practice among used car sellers who want to deceive you. They manipulate the mileage display to make it look lower than it is. According to estimates, this affects 70% of used cars today. |
| Theft & retrieval history | This confirms if the vehicle was ever reported stolen, if it was recovered, and in what state. |
| Recalls and defects | Has the model had previous recall requests? If yes, what were the issues, and was the vehicle repaired? |
| Last recorded odometer readings | Low mileage cars sell for more. Make sure the odometer reading on the report is consistent with the actual reading depending on how the car may have been used. If there is a discrepancy, ask for reasons. |
| Damage from natural disasters such as hurricanes, floods, fires, etc. | Has the vehicle been affected by any natural disasters? The resulting damages may influence the car's value, reliability, and performance. |
| Registration & inspection history | This reveals information about locations and dates where the car was registered. |
Can I Trust the VIN Report?
Our VIN reports are reliable sources of information about the vehicles you are interested in. They are based on data from reputable companies, government agencies, and other trusted sources. The information is automatically pulled and sometimes cross-checked on different databases to ensure accuracy and completeness. It's the most up-to-date information available about the vehicle's history, condition, and features.
Moreover, the DMV, insurance companies, and other entities have rules in place about proper disclosures. For instance, misquoting the mileage on title documents is a crime. Some information is also reported by experts who have inspected or serviced the vehicle.
However, we recommend that you also inspect the vehicle with a qualified technician before making a purchase decision. The VIN report has its limitations and may not capture some minor accidents or damages that were not reported or claimed.
You should also be aware of other issues like mileage rollback and verify that the details supplied are consistent with the car's usage history.
Free DMV VIN Check
FAXVIN is a service that provides free DMV VIN lookup services for any vehicle. These reports contain basic information that can be derived from the VIN, such as the model year, engine specifications, original color, and more.
To get a free report, just enter the number into the free VIN Check DMV tool on our website. However, if you want to know more about the history of the vehicle, such as accidents, repairs, recalls, mileage, and ownership records, you will need to order a paid full report. This report will give you a comprehensive overview of the vehicle's past and help you make an informed decision.
If you are checking multiple vehicles and want to optimize your budget, you can start with a free report and compare the basic facts. This way, you can narrow down your options and choose the most suitable ones for you. Then, you can order a paid full report for the final candidates and see the full history.
We also offer discount packages for multiple reports, so you can save money and get more information. You can select from different plans depending on how many reports you need.
How to Get a DMV VIN Report?
Using our tool is quite straightforward. From this page, navigate to the top and feed in the VIN in the search bar. All the VIN information will be generated and displayed immediately.
Here are simplified steps to follow:
Key in the VIN into our online checker. Click the "Check VIN" button.
Receive the result report, which usually contains the manufacturer's specs, but is still informative.
Read the results from your PC, phone, or laptop.
Our tool will highlight available history entries. If you want the full report, choose a paid package, and confirm the payment.
Wait for a few minutes for the checker tool to pull all records.
Now that you know how to carry out a DMV check, don't waste any more time. Use our DMV VIN finder and receive your car's history report in mere minutes!
Frequently Asked Questions
How Long Does It Take to Register a Vehicle at DMV?
The number of requests the local DMV office is currently processing will affect how long it takes to register a vehicle. The processing time can range from one to five business days. And in high-demand seasons like summer, requests take longer.
What does a DMV VIN Check Cover?
A DMV VIN lookup can cover various aspects of a vehicle's past, such as ownership, title, registration, liens, accidents, theft, damage, recalls, repairs, and emissions. You can access vehicle reports from the USA & Canada.
States Covered by DMV VIN Check
50
Database Update Frequency
7-21 days