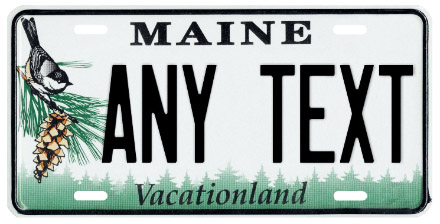 Maine License Plate Design
Maine License Plates Formats:

1234 AB
On the one hand, buying a cheap used car is awesome: you save a lot of money, and moreover, this car can be with a fairly small mileage: almost new, as you will probably think. But on the other hand, there are little to no trustworthy individual dealers of second-hand cars. If you live in Maine, consider Maine license plate lookup: it will save both your time and money. Individual consultants are too expensive and dealing with the Maine Bureau of Motor Vehicles is too time-consuming. So, your last and best option is license plate lookup. Maine is a moderately cold state covered with forests, and it's critical to own a reliable vehicle here. Reliable vehicles can be sold only by trustworthy owners, and here are VIN check sites to help you in looking for them.
So, you're searching information about your future car– and what can you learn from this? First and foremost, you'll learn whether your car is worth being bought. There are certain criteria of a good quality car, and none of them will be omitted in your online VIN report about the car's history and most crucial technical characteristics. The latter info can be easily discovered in the Kelley blue book, but the former one is accurare only when provided by a reliable source. Moreover, if an individual car seller is your best friend – it cannot be a 100% reliable source in no way. So, may a free Maine license plate lookup site be a magic bullet for you!
Maine License Plate Information
Your VIN car report will consist of useful information you can later discuss with the owner and ask him or her as many additional questions as you need to be sure the car is worth buying. Here are only some facts about a car an online VIN check can clear up:
With the help of a VIN check, you will easily discover if your future car's airbags are deployed or not. If yes, this particular car might have survived a dreadful accident, and certainly, the car owner won't tell you about that. Serious internal damages are like an invisible disease: the car may look like a new penny, but there may be a mess inside, which definitely costs a fortune to fix (if it's possible to fix that at all).
A VIN report will tell you if there are any liens on the vehicle you are planning to purchase. There's a kind of fraud which is extremely popular among car owners: they may use a vehicle as a loan, but make a future buyer responsible for all the money they have to pay. It's an especially dangerous machination, because everything seems clean before you do a deep Maine license plate search.
Many kinds of VIN fraud can be unmasked. Many owners tend to underestimate the mileage of a vehicle, and it's really possible to counterfeit the odometer data. But maintenance records never lie, and Maine license plate search free will show them to you.
If the car has ever been recalled - it's also visible in the VIN report. Even minor recalls are often omitted by car sellers, not to mention major ones. Right after the purchase of the car is made, the responsibility for all its recalls is allocated to the buyer, and we warn that an enormous sum of money can be thrown away by you if you're not attentive enough. Moreover, such a car can be taken away from you, unless you do a license plate search. Maine is a big state and unfortunately the bigger the state, the more fraudsters live there.
Auburn
Bangor
Biddeford
Lewiston
Portland
Sanford
South Portland