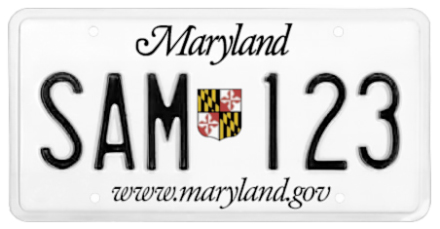 Maryland License Plate Design
Maryland Plate Serial Formats:

1AB2345
Nowadays, Maryland license plate lookup free tools can hardly surprise anyone. Every day, hundreds of drivers across the US search for car details. Most often, they use VIN, a 17-character identifier of vehicles of different classes. But what can one do if VIN is hard to find or there is the need to double-check information?
In such cases, Maryland license plate lookup works as quickly as in many other states. Technically, you get instant access to the records from car dealers, insurance agencies, state officials, private car sellers, inspection services, and many other sources, all in one online form. To get this information, type the plate number in this window. The rest is on us.
Results of Maryland license plate search
So, you've found the plate (in Maryland, it can be either on the front side or on the rear), you've found the number. Let us see what the search returns, shall we?
Here is what you'll see after Maryland license plate search:
title of a vehicle (it can be a car, a SUV, a motorcycle, a truck, or a recreational vehicle);
its ownership (you will get a warning if a vehicle has been stolen or there are liens against it);
its condition (including the records of flood, fire, or salvage, as well as information about recalls);
time and results of its latest inspection to date;
real records of mileage and odometer readings;
presence on the gray market;
VIN, a 17-digit code that can give you more details (such as the model, engine specs, color of a vehicle, use of the vehicle by the military/taxi services, and other important information).
To sum up, license plate search, Maryland can really save lives. When potential buyers have instant access to all these details about cars, it becomes difficult to brand-wash vehicles or conceal such issues as improper registration or loan contracts. Car dealers can be as persuasive as they like... until you ask them why the car had been recalled but was never repaired.
Of course, license plate search has its limitations. The first of them is absence of personal data. You cannot get to know more about the identity of previous car owners, at least not with this tool. Obtaining this personal data is illegal in the US.
Car dealership can also damage license plates or use fraud ones. All in all, if you are buying a vehicle from a car dealer, you'll only get a temporary tag. However, absence of a license plate is a good reason for questions. Don't be shy to ask dealers about anything suspicious, including the details that you find during your license plate lookup. If they get aggressive, you know what is happening.
Many drivers ask whether they are eligible for getting this information. As most of the records are or could be publicly available, consumers are free to check records associated with license plates. The only exception to this rule is personal data of current or previous vehicle owners.
Our data collection policy
Online tools like this get data from a variety of sources: insurance companies, car dealers, different services for car owners, local administration, auto auctions, agencies of consumer rights protection, online databases, and so on. We do not collect or display personal data of car owners. Records from databases, car dealers and sellers are double-checked to prevent fraud deals. The database is updated on a regular basis.
The system does not collect data about its users. No one will know what you searched and which records you got unless you inform anyone about them on your own.