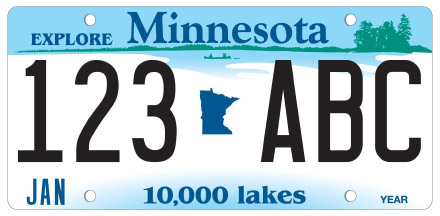 Minnesota License Plate Design
Minnesota Plate Serial Formats:

123-ABC
The use of license plates for checking car history is becoming popular in most of the American states. Minnesota license plate lookup is no exception: more and more buyers of used cars turn to it when haggling with car dealers.
License plate lookup in Minnesota or any other state shows extensive list of vehicle characteristics such as mileage, damage, title, odometer readings, records about accidents, loans, or a car being stolen, even VIN. This list makes car purchase an informed choice rather than a blind date. Here is what the customers of car deals need to know.
Minnesota license plate search FAQ
How do I perform license plate search in Minnesota?
The search takes no time. First, find a license plate. In Minnesota, it is located at the back side of motorcycles, mopeds, trailers and dealer vehicles. However, most of the passenger vehicles will have two plates, one on the front and another one on the back. A regular license plate on whatever side must have a decal with license expiration date.
Second (after you find the plate), insert the number into an online form and press "Check". You will see the results in several minutes.
What will I know from Minnesota license plate search?
The search will show you most of the facts that have to do with car registration and its working conditions. Here they are:
car title;
time of the last inspection;
odometer readings;
accident history;
mileage;
records of theft/repossession/liens;
reports about damage by water or fire;
vehicle identification number.
Why is the latter important? Having a VIN, drivers can easily decode the entire car history, from the model and manufacturer to recall info.
Are there any facts about vehicles that I can't get with this tool?
Since the law requires not to display car owners' personal data, you won't find it here. However, if you have particular needs for this, you may address an inquiry to the police.
How does all this help?
The data from online checkers is extremely helpful when it comes to buying used vehicles. Car dealers use many tricks to sell stolen items, vehicles with fabricated VINs, cars in bad condition, etc. This search is one of the ways to discover some details the dealership is trying to hide. For example, if a manufacturer had recalled the model because of any defect but the issue was not fixed, there would be a record about that. You can also see whether a car is on the grey market list or whether it is involved (as property) in any unpaid loan contracts.
Where do you get this data?
Aside from databases and official records, we use the data from insurance companies, repair stations, car dealers and owners, auctions and other sources. All the information presented here is available publicly. You are free to obtain it any time.
Will you track my search?
Why should we? There is non-disclosure policy preventing us from doing so. No one will know what and how you have been looking for.
Is it free?
Yes, the service takes no charges.
What else should I know about using license plates in Minnesota?
Minnesota requires its residents to change plates every 7 years, when their registration expires. This is why plates will have stickers with expiration date on them. This way, you can easily spot the outdated plates even without online license plate checkup.
It is also good to know that dealers won't transfer their plates to you. Instead, you will get a temporary tag that is valid for 21 days. This tag cannot be renewed; if it expires but the plate does not arrive, you can only request another tag.
Minneapolis
Rochester
Saint Paul