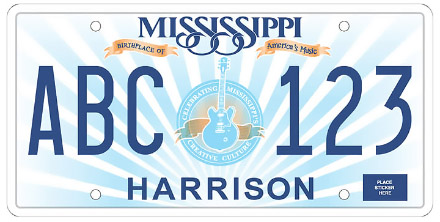 Mississippi License Plate Design
Mississippi Plate Serial Formats:

ABC 123
So, here you are, on the verge of becoming an owner of a high-quality vehicle. You've fixed upon a used car because it's cheaper and looks almost like new. You're going to pay the owner and enjoy your beautiful car but stop: you might have forgotten one important issue.
Unfortunately, it's quite common for car sellers to hide vital information about the vehicle from the potential buyers. They expect that you'll not be cautious enough, so sometimes they tend to omit some major milestones of the car's history or its technical characteristics. Of course, there are many honest car sellers, but detecting them is not easy unless you do a Mississippi (MS) registration plate lookup.
How to protect your consumer rights and not let them fool you? The best possible way is to do a license plate lookup. Mississippi law tolerates online VIN check because a consumer has a right to get this information as quickly as possible. There are far too many used car buyers, and the Mississippi Department of Public Safety has a limited number of employees, so the queues might be too long to wait. You'll not get any problems after doing an online license search. The Mississippi Department of Public Safety has a limited number of employees, so the queues might be too long to wait. We are living on a height of technological advancement, so why not to benefit from this?
Plate Information
A VIN (Vehicle Identification Number) is the ID of your car. From deciphering a VIN you can find out exact information about the car manufacturer, year of manufacture, etc.
Before doing a VIN check make sure if the car's VIN number is correct. Just check if the number consists of 17 alphanumeric digits and doesn't contain the letters I, O, Q. Here are some examples of fake VIN numbers:
History Report by License Plate
During a Mississippi license plate search, you'll find out if this precise vehicle is worth being purchased. In most cases, such a report includes the following information:
The vehicle's year of manufacturing and production so that you'll know for sure if the car is not outdated.
Who is the current owner of this car?
If the car was stolen. A stolen vehicle is not appropriate for buying or selling by third persons.
If the car has been storm or fire damaged. Some of such damages can be quite invisible under the new paint or whatever the previous owner decides to do to hide the flaw.
If lemon laws are applied to this car. A lemon law is a kind of law that is applied to unsafe cars, which are either damaged or defective.
If the car has been salvaged. Of course, you can get your money back from the owner for such a problem, but it's better to avoid this than to survive. If you find out that your car is problematic, it's better to look for another car than to consult a private lawyer, which might be too costly.
How many accidents (if any) the vehicle survived. Post-accident cars are particularly risky in usage, even if they were reconstructed after that, you should remember about this.
If there are any liens. On some online services, even a name of a lien holder can be found.
Odometer data (which is often falsified by previous owners). Odometer rollbacks can be noticed only after a thorough Mississippi license plate number search.
As you see, a good online VIN check service can be a lifesaver for used car buyers. This information will help you to purchase a good car being sure you're not deceived. Good luck in your endeavors and be careful!
Biloxi
Clinton
Columbus
Greenville
Gulfport
Hattiesburg
Jackson
Meridian
Pascagoula
Pearl
Southaven
Starkville
Tupelo
Vicksburg