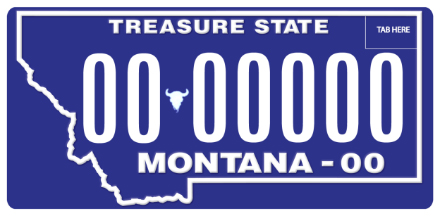 Montana License Plate Design
Montana Plate Serial Formats:

0-12345A
00-1234A
ABC123
0-12345A
00-1234A
Montana (MT) license plates are notorious. In fact, if you see Montana license plate numbers on expensive or unusual cars (or the so-called "recreational vehicles"), this is the sole reason to worry. Especially when you spot a car of this kind not in Montana.
Why so? Because the taxation in this state is different from the rest of the US. In other states, drivers pay thousands of dollars to get license plates for their exotic vehicles. In Montana, this service will cost only several hundred dollars. Some of the local law companies love to get quick profit by setting up fake limited liability companies to let people register expensive cars as a corporate vehicle and drive them safely outside of MT. The only problem with this scheme is that insurance companies in other states know about it and don't pay "Montana car" drivers when they get in accidents. Moreover, some states like California or Massachusetts even look for Montana plates in places where recreational vehicles are being parked. The owners of fake plates may be subject to severe fines.
Another issue with Montana legislation is that you can register a vehicle without safety inspections or pollution control. This may be good for scheming car owners, but not for those who are looking to buy cars with Montana plates. If you see the notorious number with the state outline, do an extensive Montana license plate search with our tool.
As a bonus, this search engine will help you prevent messing with other dangers of vehicle market. Just find a license plate number, type it in the form and wait for a couple of minutes.
Montana license plate Search
So, what does a typical Montana plate look like? The most recent Montana plates are blue with white lettering, illustrated with the contour of state on a map. However, several other designs are also available, and the state changes license plate design once in 5 years. In the corner of the plate, there will be a sticker with registration info. This decal should be replaced every one or two years.
Montana license plate lookup online will show you more details about a vehicle, namely:
Registration details and title.
A report about the latest safety inspection.
Information about any damage caused by accidents or disasters.
Reports about a vehicle being stolen or used in taxi service.
Mileage and odometer readings.
Use of a vehicle in loan or repossession contracts.
VIN.
As you can see, license plate lookup in Montana is quite effective. You can extend your search by looking up the VIN that you found. Along with the color and model of a vehicle, it will help you discover such important things as manufacturer and history of recalls, engine specs, and other important aspects. However, do not hope to get personal information about vehicle owners via this form. Not only because of "the Montana thing" described above but also because distributing this information is illegal.
Security of information
During the search, personal data of those who look up license plate numbers is well protected. Unlike the data about cars, it is never saved from future.
You don't also need to worry about your right for getting this information. Consumers can access the data that is available publicly. Our service is based just on this data, together with well-checked observations by car sellers and dealers, insurance companies, agencies of protecting consumer rights, and so on. This data is only made convenient for searching, so you can look up a plate number in the matter of minutes.
Remember that the plates don't tell the whole story, especially the plates of Montana. When in doubt, check VIN and talk to the dealer. They should be able to answer all of your questions on spot.