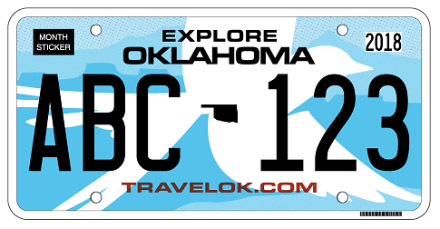 Oklahoma License Plate Design
Oklahoma Plate Serial Formats:

ABC-123
If you are about to purchase a used car, then be ready to face surprises that will be detected after you would have paid and started driving a vehicle. For instance, there are many cases when police stop a driver and claim he is driving a stolen car or a car whose previous owner has debts in a bank, and a current owner needs to solve the problems that are not his fault. There is the only way to avoid such a trouble: to acquire all data concerning the auto you are going to buy before paying. What do ordinarily people want to know about their potential cars?
First of all, they want to find out whether the car was damaged in accidents since it influences important functions. For example, if a vehicle frame was once broken and then soldered, it loses much of its durability and solidity, and then there are more chances for the car to be seriously damaged even in a small accident. And surely it impacts the safety of those who sit inside.
Secondly, people are eager to know whether a car had been stolen and had any issues with the law, because no one wants to deal with another's problems.
If you are seeking for a place where you could find all crucial auto data quickly and easily, welcome to our Oklahoma license plate lookup: our job is to assist people in getting the requested info about cars. If you need to obtain all the details related to the particular car exploitation, you have to know only digits and letters on the plate for license plate lookup. Oklahoma, as every state, has its own rules about the plate format. For instance, a new license plate will have a new design based on the state bird, the scissor-tale flycatcher on the blue background. The year in the right higher corner of the plate indicates the year when the plate expires. Knowing the letters and the digits of the license plate is absolutely enough to use Oklahoma license plate lookup free of charge.
Registration Plate Report
Oklahoma license plate search is legal and free, it makes it unique and pretty convenient. Moreover, it works fast and will present all requested data in the form of a short report within a few seconds. What info does the service provide?
Accidents data (including date, level of damage severity, impact area, whether the airbags were deployed or not).
Real mileage.
Official data like title, date of production, manufacturer, original color, model, trim, engine, sizes, highway and city fuel consumption, etc.
Damages caused by disasters like fire and flood, and repair info.
Theft information.
Registration and inspection history.
Service info (for example, oil change).
Impound and export records.
A current owner brief info.
Junk, salvage and insurance records.
Not bad, is it? Having this data you are really well-armed, and no one will mislead you. Ok, but definitely you wonder where we can gather such comprehensive information, and whether you can fully rely on it. We made a great job, having been communicating with hundreds of various trustworthy organizations so that you could feel safe:
Insurance companies
Motor vehicle agencies
Auto producers and sellers
Auto auctions
Vehicle service and repair companies
National Motor Vehicle Title Information System
Police, etc.
So if you are looking for info about any car, just use the license plate search. Oklahoma as well as other states has provided plenty of data, and we formatted it in clear and neat way. All that is required from you is just to enter the plate number, and start free license plate search (Oklahoma or any other state can be selected in drop down menu) by pressing the Check Plate button.
Bartlesville
Broken Arrow
Edmond
Enid
Lawton
Midwest City
Moore
Muskogee
Norman
Oklahoma City
Owasso
Shawnee
Stillwater
Tulsa