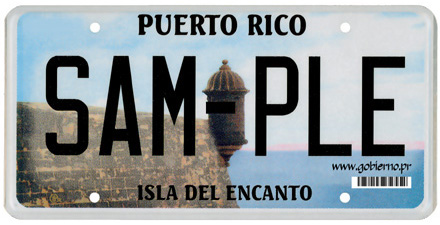 Puerto Rico License Plate Design
Puerto Rico Plate Serial Formats:

ABC-123
Owning a car is a must in Puerto Rico (PR). Every day its residents drive miles to work and home; so if you live there but you don't have a car, you already think about purchasing it. If you don't have enough money for a new vehicle, you think that it is better to buy a used one now than save for purchasing a new one tomorrow. But be aware, even if this car has a Puerto Rico license plate, it doesn't say that your seller is reliable and your vehicle stays in a good shape. Anyway, there is a nice way to check the history of a car through license plate lookup Puerto Rico.
If buyers don't want any unexpected surprises with their cars, they should know everything from the date of its manufacturing to its history and past owners. This information is not difficult to obtain if one has a license plate and vehicle identification number (VIN). As soon as you have these data, it is the high time you submitted them to the service on this page and got free license plate check.
License Plate Check History
Those who live in Puerto-Rico know that there are 2 ways of obtaining a detailed information concerning their vehicles. The first one is through accessing DMV databases which might cost money and time to make calls. Another one is through online license plate checking tools. On this page, you can see a service, which can save your scarce resources implementing all difficult tasks for you.
You can access it everywhere with any device connected to the Internet. Our license plate search tool will dig through local DMV database and get all information regarding car registration numbers. Within a few minutes, you will know all necessary indicators, which will reveal the current state of your vehicle. Here are some details which you will know for sure:
accidents history and damage caused;
did its past owner borrow money to buy this car;
true mileage of the vehicle;
information about any damage caused by flood, fire or hail;
car's maintenance history.
Our service doesn't use unreliable sources. Our Internet platform collects all information from official and trustworthy databases, and we are ready to share it on your demand. The service will maintain a complete privacy so no one else will know that you used it or about your interest in that car.
If you order a license plate lookup Puerto-Rico through our website, you will get all this information in the form of user-friendly and straightforward report. It has much more aspects disclosed, so if you are interested, you can use it right now!
You don't need to be a car professional to check your license plate with us. There are 5 straightforward steps one should take to check car's history:
Look for a number on a car's license plate;
Type this number into a special field;
Press "Search now" button;
Obtain a user-friendly report containing all necessary details.
The check is fast and straightforward; prospective car buyers can make it even when they are talking with vehicle's seller. The more surprises this tool reveals, the more unexpected questions customers will ask the sellers and the more chances they have to discover the hidden truth about the vehicle. The more details you know about the car, the more resistant to frauds and counterfeits you become. And if the final picture reveals that the vehicle is not what you expected, feel free to search for other options. If you plan on meeting the vehicle's seller, this is the right time to open license plate checker on this page and start checking your car right now.