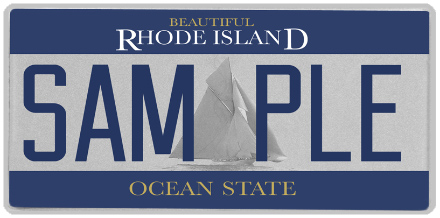 Rhode Island License Plate Design
Rhode Island Plate Serial Formats:

123-456
AB-123
12345
If you are from Rhode Island, license plates probably mean to you much more than to drivers in any other states. Maybe you were once obsessed with that wave license plate that would fit your car perfectly or always dreamed of the day when the boy that bullied you at school finally sees you driving by with shining three-digit plate. But license plates are not only fancy, they can provide equally valuable insight into the history of a car.
There is so much to bear in mind when getting a new car, that it is easy to overlook even some substantial defects. But you hardly want to deal with auto fraud lawyers for the rest of your life, since you are likely to pay them almost as much as you have paid for the car. And you don't want to tremble in fear knowing that attorneys rarely take auto fraud and lemon law cases at all.
This is when VinCarHistory comes into play. With this online tool for Rhode Island license plate lookup, you can be sure that you know everything that matters about your new vehicle.
Rhode Island License Plate Search Online Tool
Using this easy and fast tool you can check your desired car, that will ensure that you get the quality you pay for. Many things about a car you can check on your own if you have enough technical knowledge. For example, there are many techniques to check the real mileage of your car, but they all take your valuable time and energy and are not so easy for newcomers.
With license plate lookup Rhode Island you get a full report about the car you are interested that includes problems drivers worry about most:
Odometer tampering or replacement: no need to pay above the odds for a car that has known better days.
Flood, fire or hail damage: this is usually not easy to detect because after repairs the car seems to be fine (remember, you will even get separate data on salt water).
Car theft: you would never ever want to buy a stolen car, but checking it by yourself takes a lot of time and you can never be sure.
But that's not all of it. Rhode Island license plate lookup will bring you info about accident damage and previous maintenance of the car. You will get info about the manufacturer, learn whether this car was ever returned due to a breach in the warranty or whether the original parts were altered. If you are curious, the tool lets you find out whether the car was ever used as a taxi or served in a police department.
Advantages of VinCarHistory's Rhode Island license plate search tool:
You get the result in a couple of minutes. Our engine is that fast. You will get a preliminary result in just a few seconds and getting a full report on a car takes just a few minutes more.
No personal data needed. All information this tool needs to provide you will valuable info is the license plate number and state.
It's safe and legal. We protect not only your privacy but also the private information concerning cars' former owners.
You can trust the data you get. We only use official and reliable sources.
The Rhode Island license plate lookup will easily do all the tedious checking for you so that you can focus on more pleasant thoughts. Don't waste your time, get your first report and when you are sure, go for a test drive!