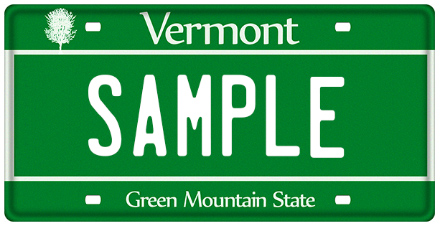 Vermont License Plate Design
Vermont Plate Serial Formats:

ABC 123
12AB3
1AB23
123A4
1A234
Not everyone can afford a new car, but there are always options to purchase a used one. Keep in mind that choosing a pre-owned car is hardly a walk in the park: moreover, it's a big challenge. However, a license plate search can help you tremendously in this uneasy task, as it can provide you with all information about your destination vehicle: from fuel efficiency to history of accidents. Be sure that all data is validated and legal and your investment will be not in vain.
A test drive won't replace a license plate search, because not all malfunctions could be noticed empirically. Vermont license plate search is based on reliable sources such as insurance claims, DMV records and databases of repair shops.
With the help of a license plate search, you'll make sure that the title is acceptable according to the Vermont DMV rules. Please, avoid junk, salvage and totaled titles: only if a title is in good standing, there's no risk for your safety.
If the title is rebuilt, keep in mind that the car was once considered broken or simply excessively worn and after that it was inspected by the state and re-certified to be safe again.
A pre-owned car not always can be almost new. Sometimes it can have changed many owners and even be even older than its potential buyer. The one-owner car is considered to be a golden standard, but remember that sometimes three different owners combined can be much more careful than one.
If the car was owned by a company - it's not necessarily a high-quality, almost new vehicle. We don't want to discourage you, but car rentals often trade in high-mileage troublesome cars. Vermont license plate lookup is exactly for such cases: there are no empty words on such sites, there are only facts.
Some owners tend to hide a turbulent history of their cars behind thick layers of new sparkling paint, new windows etc. But not a single small lurking scar can be hidden from a license plate lookup service! Only a license plate database can tell you whether a car you're interested in was rebuilt after a deplorable condition, or had just minor scratches.
Vermont License Plate Search
A car history report will give you not only such information about the vehicle as model, the year of manufacture, restraint systems etc. On top of that, you'll be able to define whether the VIN of the vehicle is authentic or not. The best way is to compare the VIN given by the previous owner and the one in one of the Vermont license plate databases. If both of the numbers differ even slightly, there's a high possibility of fraud. This vehicle might be either stolen or totalled and then repaired with negligence and certified illegally.
Besides, a Vermont license plate lookup service gives you all information about the regular maintenance of the car you're interested in. It's highly possible that some tests and inspection were skipped by the previous owner of the vehicle.
Odometer verification is also one of the crucial things to consider before deciding to buy a second-hand car. The mileage is normally noted on every occasion, especially when the vehicle is bought, sold, inspected and serviced. The importance of comparison was mentioned above, and here you should remember this better than anything else. Compare the mileage on the dashboard with the estimated one on the report. If the seller's odometer is less - be careful: the odometer might be tampered.
Any license plate lookup is like a magic wand for those who want to buy a used but high-quality car and to avoid the red tape.