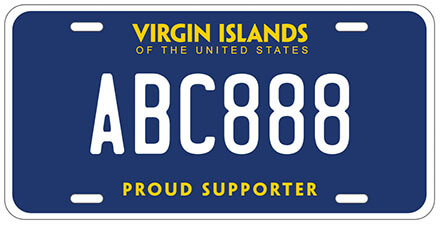 Virgin Islands License Plate Design
Virgin Islands Plate Serial Formats:

ABC 123
Deciding to buy a car you definitely want to secure yourself from purchasing a stolen or breaking car. If you live in Virgin Islands, this won't be a problem for you anymore. There is an option of license check up that will give all the records on vehicle and get to know everything that happened to the car previously. You will be 100% sure that you have made a perfect choice among used cars.
There is no need to send requests to dozens of organizations and commissions that provide information on different vehicle aspects. It will be enough to use Virgin Islands license plate lookup tool to find on only the information provided by a manufacturer, but also records on damages and even lien records.
You pay for a report only once, and it will be available within 180 days after purchase. To check the report, you just need to login your account. This report will prevent you from making a mistake, and you will never regret that you've decided to pay money for your safety. If you buy several reports, they all will be kept in your account. The best thing is that if you have some remaining report credits, you can use them later and they will not expire.
How Virgin Islands License Plate Search Works
In fact, the state has no importance for this license place checker as it has access to records from 50 US states and Canada. It means, that you get the fullest information on the vehicle despite where you live. Besides, you will get the full report even if you buy a car from another state! The distance is no longer a barrier that prevents you from getting all records quickly. All you need is to enter license plate number at the corresponding form a website and enjoy a report delivered quickly.
To provide you with all details that may be interesting for you, Virgin Islands license plate search results are based on careful review and analysis of the following sources:
Local and federal title systems for US
All companies that provide insurance for vehicles
Auctions that sell used cards and other vehicles
Major dealerships from all states
Rental companies and agencies
Local vehicle stations
Each report presupposes a careful analysis information and automatic generation of reports. Due to that, the checker can guarantee that a human factor won't influence the results.
Of course, we should cover at least some of the points that you will get in your reports.
First of all, you receive all the details that manufacturer of the car provides including basic technical characteristics, color, when and where the vehicle was made. Additionally, you get the latest details on the odometer readings, therefore, you will know for sure how many miles the vehicle has already covered. Perhaps, odometer data will prevent you from buying this particular vehicle and you will choose something else.
The most important information is the title records. You will get to know how many times the car was sold, when and where it was serviced, and even how many times the filters or oils were changed. If you are not satisfied with the indicators, you will just keep looking for a car that perfectly suits your preferences.
Also, the report will cover such information as insurance and theft records, export and import, lien and impound, and other details that may be important for you. The details come in a convenient form of a checklist, so you will be able just look it through and make a decision on whether everything's ok for you.
Never hesitate to use checker to choose a car. Prevent yourself from problems by ordering one report, and you will never regret!