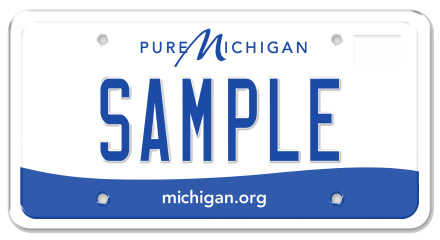 Michigan License Plate Design
Michigan Plate Serial Formats:

ABC 1234
1AB C23
ABC 123
Michigan is often referred to as a state where people are mad about cars. They buy good Craigslist items in a matter of seconds and sell them with notorious tricks such as so-called "curbstone deals". Cars and other vehicles may lack repair due to cold in winter. State authorities have been reported to be over-using salt on the roads, which is why many metal details of vehicles are badly damaged with rust. How to protect yourself from car dealer scams in such dare conditions? License plate lookup, Michigan comes at service.
In Michigan, license plates are located in the rear part of cars, motorcycles, vans, trucks, and RVs. Re-issuing the plate is not mandatory since the state does not have enough resources for that. For this reason, many license plates may look a little worn out. In such a case, you need to check attentively whether it is exhausted. If this is so, a car owner may have problems with law enforcement. An invalid number could indicate that the car does not really belong to the person whose name is on the title.
Michigan license plate lookup free service also comes in handy when the VIN number is out of sight or looks fraudulent. Having the number on the license plate, some services can find out the VIN code or some information related to it. As a car buyer, you can use license plate lookup as a way to double-check whether the purchase is safe after you check the car VIN. According to the law, taxpayers have unrestricted access to the information on vehicles collected by state authorities, except from personal data of vehicle owners.
There must be a sticker in the upper-right corner of the plate to show in which month and year a vehicle will expire. After the purchase, dealers will either give you a new license plate or license your vehicle for the next 15 days.
So, once you want to check the number on the plate, just go to our online checker, insert the number in a corresponding field, and wait until additional data appears. Our search engine won't collect your own personal data.
License plate search Michigan: what can a license plate tell you?
We collect records from various sources such as DMV offices, service stations, and insurers. An individual could spend days and months looking up this data on his or her own. Luckily, it's all in a database. An entry will return:
the current owner;
issues with the title or registration;
use of the car in loans and financial operations (liens);
any reports about the vehicle being stolen;
history of accidents;
time of the last vehicle inspection;
any other data that can be obtained publically. This could be the color, model, manufacturer of the car (available through the state database) and odometer readings.
Sometimes, search can return several records for the same number. Typically, this means that the plate has been transferred from one vehicle to another by the same owner. There is nothing wrong with that, but look closer if you are suspicious about anything else.
License Plate Search Michigan Specs
License plate search, Michigan version can tell you a lot about a vehicle owner due to the special codes used in the state.
Dealer vehicles usually have numbers with two digits, letter D, and three more digits (55D555). A number like 555M555 will indicate a car belonging to vehicle manufacturer while the same style number with G (555G555) indicates in-transit vehicles (watch out for these). Trucks, cars, and buses belonging to the city, schools, and police typically have the format like 555X555. State government cars are signed "X55555+State Govt" or "MSG 5555". 555Y555 stands for the vehicles that belong to non-profits. Alongside with these, the state also issues vanity plates featuring words and phrases upon requests.
If Michigan license plate search returns such issues as owner mismatch, liens against the vehicle, or any criminal record, do not buy the car under any conditions. If you suspect something but you cannot really check it, try searching for the full record by the VIN number.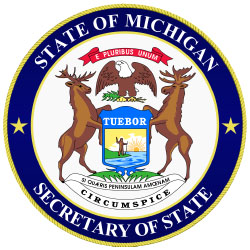 Michigan Secretary of State (SOS)
Lansing, MI 48918
(888) 767-6424

Ann Arbor
Clinton
Detroit
Grand Rapids
Lansing
Sterling Heights
Warren