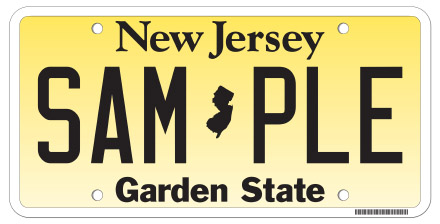 New Jersey License Plate Design
New Jersey Plate Serial Formats:

D12-ABC
ABC-12D
Some American lawyers, particularly in New Jersey (NJ), are trying to cut costs on license plates. On the one hand, such concern is understandable, as drivers are overloaded with other taxes. On the other hand, the plates have many uses. They help the police track speeding and other violations of law, not to mention chasing culprits. In 2012, there was a study of the effectiveness of law enforcement in the states that do and don't require front license plates. It quickly became clear that front plates give the police much more chances. As for the drivers, New Jersey license plate search comes in handy when they buy used cars.
When doing this search, drivers should mind the special New Jersey license plate history. The MVC (Motor Vehicle Commission) still allows to display the plates of all types produced since 1959. The passengers are only required to use registration card issued to the driver. Other vehicle owners should prove their registration with front and rear plates. Used dealer cars, scooters, bicycles, motorcycles, segways, and some other vehicles that only have rear plates.
So, when going to a local car dealer, look for the numbers on rear plates and paste that numbers in our free online tool. In less than 5 minutes, you'll get a short list of facts that will help you choose wisely.
New Jersey License Plate Lookup
New Jersey license plate lookup works for all classes of vehicles that have license plates on them: dealer cars, trucks, vans, motorcycles, scooters, and mopeds, even recreational vehicles. The search engine on this site gives instant access to a wide array of the data available publicly (on the databases, in the reports of insurance companies, in the files from auctions and private dealers, and so on). Here is what you can discover about every single car:
The car title. This document specifies the name of car owner, liens against the car (if any), vehicle manufacturer and registration details. Pay attention to any differences between the name on the title and the name of the owner/dealer as they put it.
Records of accidents. You don't want to be driving a vehicle that did not get proper care after an accident or two.
Notes on salvage, hurricane, fire, or water damage. Environmental disasters don't leave cars unaffected. If you find any records here but the dealer does not tell you about damage of this car, ask him.
Lien/repossession records. Vehicles may be used as liens in loan contracts. When buying a car, you want to know whether there is still any money owed for a vehicle of this kind.
Mileage and odometer readings. Too many car dealers lie about this.
Presence on the grey market. We monitor the records about stolen vehicles and the vehicles of controversial origin. Should the system spot such a vehicle on the gray list, we'll let you know at once.
VIN. License plate lookup (NJ) gives you more than the data associated with plates. By searching the license info, you get access to a sort of DNA of the car. A VIN check will provide us with information such as the model, engine specs and condition, manufacturer and recall data, and so on. It is important to know whether the model had been recalled and even more important to see whether it was repaired after the recall. Car owners and dealers may be careless when it comes to fixing minor defects, but those defects may cost drivers lives.
New Jersey license plate lookup free service is absolutely legal for the customers. It collects no personal data, neither of the car owner nor of the ones who search.
Edison
Elizabeth
Jersey City
Lakewood
Newark
Paterson
Woodbridge