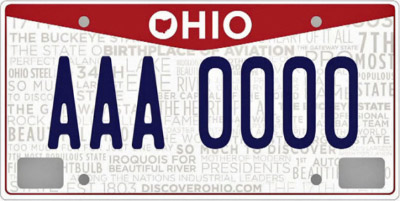 Ohio License Plate Design
Ohio Plate Serial Formats:

ABC 1234
Ohio license plate lookup is a part of a free digital service that helps everyone interested track history of cars or other vehicles. This type of search should no longer be an exclusive right of the police. There are too many details that drivers desperately need when buying vehicles.
People use license plate lookup Ohio version to figure out a more detailed info on the cars that they are going to buy. Together with an extensive database, a license plate will tell you whether the title of the vehicle has been changed. Avoiding stolen vehicles is now a snap trick. Even if you cannot see VIN but there is at least one license plate, you can easily decode the missing VIN, too.
Why wait? Learn more and hurry to benefit from Ohio license plate search.
Ohio license plate lookup for free
Ohio license plate lookup free services work immediately. You just insert the number on the plate (or, in case of Ohio, numbers mixed up with letters) in an online form. A story of vehicle's life will come up shortly.
In particular, license plate search (Ohio records) will give you the following data:
identity of the car owner;
vehicle title, current or previous;
transactions in which the vehicle has been involved, including loans;
any accidents in which the car got;
day and time when the vehicle was last inspected;
other data associated with VIN, such as odometer readings, car model, color, and engine, etc.
Ohio license plate search is free and legal. As a taxpayer, you can use this tool to protect your consumer rights. However, remember that using online checkup for getting personal data of previous car owners is illegal.
To supply you with data, this tool combines information from the court, BMV, corrections, and other official statistics databases. Every record is being double-checked before getting to the checkup tool. Your personal data cannot be collected while you do your search.
Statewide legislation on license plates
Ohio state administration wants all the state residents to use Ohio license plates on public roads. There is a special authority issuing them. It is called BMV (Ohio Bureau of Motor Vehicles), and car owners in Ohio are required to contact it for vehicle registration once they get the title.
The state is known for its front-plate controversy. Ohio law requires car owners (mopeds and motorcycles do not count) to display license plate both on the front and rear parts of the car. This requirement dates back to 60s. Researchers even proved that the front plate helps prevent accidents.
But many residents dislike the front-plate rule and sign petition after petition against it. Some of the protesters dislike the design; others would secretly prefer that they remain unnoticed when breaking the rules. However, the administration keeps mercilessly demanding the front plates.
To sum it up, you should always check the state of license plates before you buy a car. Firstly, look whether there is the long-cursed front plate. Secondly, keep in mind that Ohio state administration changes plate design once in 5 years.
License plate number and VIN
As it was mentioned, license plate number gives you quick access to the 17-digits code called VIN (deciphered as vehicle identification number). The latter can provide you with more facts than the plate. Some VIN checking tools go even as far as disclosing personal data. Others only offer the complete history of a vehicle in question.
It could be useful to check whether the VIN that you get through license plate checkup matches the VIN that is visible under the windshield or on the side door.
Try our handy license plate check tool for free now!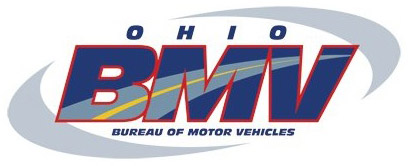 Ohio Bureau of Motor Vehicles (BMV)
1970 West Broad Street,
Columbus, Ohio 43223
(844) 644-6268

Akron
Cincinnati
Cleveland
Columbus
Dayton
Toledo