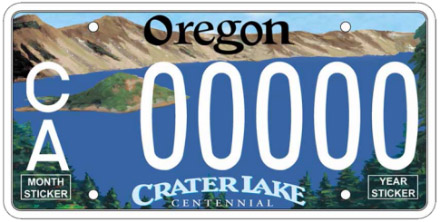 Oregon License Plate Design
Oregon Plate Serial Formats:

123 ABC
ABC 123
Oregon license plate lookup was designed to protect vehicle buyers from schemes of dealers and other agencies having to do with cars. Many incidents have been reported in recent years, many more are still uncovered.
Just to give you an example, Shannon Jones, a car dealer, was accused of scheming against his associates, lenders, and customers. Dozens of those who bought vehicles from the man could not help but spot issues with car titles, bad condition of vehicles, and so on. One of the cars had three official owners, according to the papers.
Another man admitted his participation in the scheme of crushing used cars that had controversial history or ownership. The cars suffered only to be sold as metal, the culprit told the police.
If you want to avoid buying cars with fake titles, non-working brakes, or other problems, protect yourself with guarantees and tools like Oregon license plate search. This engine lets you browse through the history and specs of a vehicle in no time.
What is more, license plate lookup in Oregon will reduce the risk of being fined for not complying with the state law. Let's get down to them now to see what we can learn from license plates.
Oregon license plate lookup free service
The first and foremost reason why people use Oregon license plate lookup free service is that they want to decode a VIN. You can really find a VIN of a vehicle by checking the plate number. This option is a blessing when a VIN is not visible in the places where it should be the door and the windshield at the driver's side.
Even a plate alone can tell you a lot of things like mileage, title, records of repossessions, loan contracts, accidents, and theft. You will see whether the vehicle you are about to buy has ever been damaged by fire or water and whether it was recalled by manufacturer. A recall that was not treated adequately poses a serious danger to you. Don't forget to compare the written and real odometer records, as falsifying odometer readings is one of the most popular dealer tricks in America.
Once you get a VIN, you can check it here, too, and get even more details such as the model and color of a vehicle, the manufacturer, and details about the engine. Even when you spot no issues with ownership, critical state of the engine may pop up.
Whether you check a plate number or a VIN, pay attention to what dealers tell you. If the data found by an online check is even slightly different, the deal might be unfavorable.
Oregon DMV license plate lookup also helps drivers with a lot of these details. However, our database has more sources than just official records. We also collect info from auto auctions, individual dealers and sellers, insurance companies, and agencies that care for customer rights. If you wonder whether getting this data is legal, don't worry: this information should be available to all taxpayers. The only type of data that we never disclose is personal information about vehicle owners.
License Plates in Oregon
According to the state law, most of the vehicles should have 2 license plates, both on the front side of a vehicle and on the rear side. Special and antique vehicles should have 1 plate, preferably the one that has been there from the very beginning. The one-plate exception also applies to mopeds, motorcycles, campers and trailers.
When buying a used car, you don't get the new plate immediately. Those who purchase vehicles from private sellers get a trip permit that is valid for 10 days. The dealership will give you a temporary tag.
Eugene
Gresham
Hillsboro
Portland
Salem