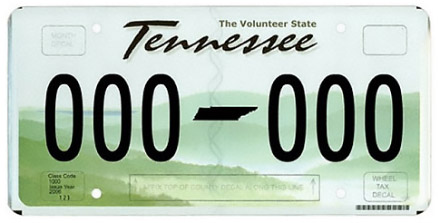 Tennessee License Plate Design
Tennessee Plate Serial Formats:

A12-34B
What is the most important information to know before you decide to buy a car in Tennessee (TN)? First, whether it has passed all necessary inspections. Secondly, whether it has not been stolen. Thirdly, relevant odometer readings. This list includes a huge number of points, and all of them have a huge importance as here we talk about buying a used car that should be safe for you. In case you miss some points while making a purchase, it will be only your fault that you've decided to trust seller. Here, the only rule can be applied: trust but verify.
Of course, when you buy a car you never have enough time to apply to all commissions, organizations, and boards that can provide you with the fullest information on vehicle. But there is one more way that is even more effective for customers, and this is Tennessee license plate lookup. It is fully automatized and really quick: you just click the button and wait till the report is ready. You can always order several reports if you are checking several cars. All of them will be available for you in your account. Also, you will get emails with links to the reports. Therefore, you will be able to check them directly from your smartphone when the necessity appears.
It's great to use license plate lookup Tennessee and other states if you a car dealer as well. You probably get dozens of cars for selling per day and you just do not have enough time for checking all of them. With online lookup tool, you will save hours for getting reports. For you, the will help:
To set a fair price for any vehicle
To show your customers that you know everything about the vehicles
To demonstrate your clients that you will never buy cars in bad condition or stolen vehicles
Registration Plate Records
No one will deny that application to different local authorities may be rather tough. It takes too much time, and neither customer nor the car dealer has it. If you do not want to wait for days and even for weeks, it will be better to order a report. This is really important for everyone who buys a used vehicle, as the may be a lot of other customers and those who are quick with the decision get what they want.
Expect for the Tennessee license plate search is quick, it's also totally reliable. You may be sure that all information you get is totally reliable and you use the report as a proof of the quality of vehicle. License search online tool has access to the most influential companies and organizations that sell, operate and serve the vehicles, and you will not need to refer some other sources to find necessary information.
Free license plate search Tennessee provides users with such details as:
Information about inspection records
Details on the previous owners (if the car was used for taxi or police, you will know that)
Specifications of the vehicle
When and where the car was damaged
What maintenance works it passed
In a few words, you will get basically everything you need to know about used vehicle or bike in Tennessee.
If you got interested in these services, you can order all of them here. Just create your account or enter license plate information, and you will get the instructions on how to get a report. If you still have some questions, feel free to send us a message!
Bartlett
Brentwood
Chattanooga
Clarksville
Cleveland
Collierville
Columbia
Cookeville
Franklin
Gallatin
Germantown
Hendersonville
Jackson
Johnson City
Kingsport
Knoxville
La Vergne
Memphis
Murfreesboro
Nashville
Smyrna