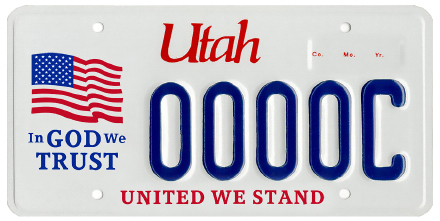 Utah License Plate Design
Utah Plate Serial Formats:

A12 3BC
A12 3BC
1234A
Purchasing a pre-owned car is always a big challenge. A future owner should consider all possible and impossible factors: safety, price-quality ratio, accident history etc. License plate lookup in Utah is a free service that will be your essential helper in choosing a high-quality vehicle. Its data is taken from reliable sources: from insurance companies to repair shops. The license plate history will provide you with so many important facts about the car that you'll be warned about pretty much everything you need before buying a used vehicle.
First and foremost, a Utah license plate lookup will prevent you from buying a stolen car. When you finish reading this text, a dozen of cars will be stolen in the USA, it's just a dry statistics. If you buy a stolen car, you'll regret about that as soon as it's taken from you, along with an enormous sum of money.
What's more, not all owners do routine servicing of their cars regularly. Buying a used vehicle is a risk itself, but buying a used poorly maintained vehicle doubles your chances to spend a great deal of time and money just to keep your "new" car going. Using a Utah license plate lookup is a perfect decision for those who don't want to risk that much. This service will give you information about all aspects of the car's maintenance history.
The odometer reading machinations are also very common among the car sellers. No wonder: the lesser is the mileage, the higher is the price of the car! If you know how to use a license plate search, you'll leapfrog this problem. Only actual mileage readings can be shown in such a database. Please compare the report and the odometer reading on the car you're interested in: if they differ significantly - be careful, it might be a fraudulent scheme.
Utah License Plate Search
We strongly don't recommend you to buy too old vehicles. Since the day of purchase, the car becomes totally yours, and so do all its possible malfunctions. If the car gives out on the highway and causes some big trouble - it's you who'll have to pay from your pocket, not the previous owner. With the help of a Utah license plate search you will know the type and number of all previous vehicle owners.
Check your car thoroughly - there shouldn't be any liens. The presence of a lien means that the technical owner of this vehicle is a bank. Repair issues and open recalls make the selling of such cars illegal, but pre-owned car purchasers are not affected by this rule. A good vehicle history report should include all nuances for you to feel safe with your choice.
The main purpose of any license plate search is to gather as much information about used cars as possible. A license plate search includes thousands of cars, and it's up to you which one to choose. Broad range and validated data will make you feel more comfortable with your choice. If you're lucky enough, you'll purchase an almost new vehicle for the best price.
One more reason to do a license plate search is to make sure your dearest ones are safe and sound. For example, if you know a VIN of your daughter's boyfriend or your son's girlfriend - you can freely get the information about the car your kid is going to get into and keep them out of harm's way if needed.
Of course, it's up to you to consult the Utah division of Motor Vehicles, but why to spend more time and effort, if you can spend less? A license plate search service is a perfect decision for those who appreciate their time and money!
Provo
Salt Lake City
West Jordan
West Valley City