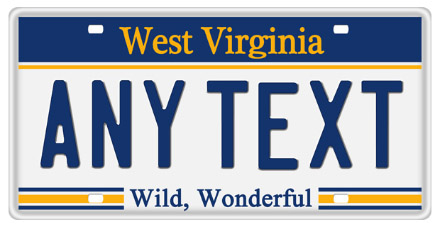 West Virginia License Plate Design
West Virginia Plate Serial Formats:

0AB 123
ABC 123
West Virginia (WV) license plate lookup is useful on many occasions. Firstly, it protects customers from numerous tricks of the dealers of used cars. Secondly, it helps discover more about a car that you are about to buy from a private seller. Last but not least, it lets you check the origin and history of any car, which may be helpful when dealing with a suspicious partner in the matters that are not related to vehicles.
In West Virginia, all car owners are required to display a license plate on the back of their vehicles. The plates are issued by the local division of DMV. Absence of the plate might in itself be an indicator of fraud.
Supposing that the plate is there, note the number and enter it in this West Virginia license plate lookup free system. In no time, you'll get several records about the car represented as handy checklist. The red checkpoints mean that there are some issues either with the ownership or with the condition of the vehicle. In such cases, examine the records and be careful around the owner of the car.
Another way to benefit from license plate lookup in West Virginia is get the car VIN and subsequently check it in our system (yes, drivers can check VIN numbers, too). Decoding VIN will return even more results, such as full salvage and repair records. Of course, you can also get the VIN number from the car windshield or at the driver's door, but there is no guarantee that this number has not been modified. Examining registration plate is a fine way to double-check whether the identification number is authentic.
Now, let us get down to the characteristics that you can learn from a license plate.
History Records Information
One of the most useful results of West Virginia license plate search is the car title. The title means that you know who is the real owner of the vehicle. Title frauds are very common in America; they are almost as widespread as odometer tampering. Luckily, you can get information about the title online in minutes.
Another important record about any car in our system is its criminal record. If the car is on the grey market list, you'll know at once. If anyone has been spotted driving it illegally, you'll also know at once. We collect the data from insurance companies, auto auctions and salvage sales, private dealers, state authorities and consumer rights agencies to ensure that the data is up-to-date.
Another reason why local drivers use West Virginia license plate search free tools is that many cars had secretly been used in public services before they got to the dealership. Our system will give you a red-tick warning if this is the case with the car that you're looking up. Another red tick will appear if a car has been used in a loan contract.
Last but not least, the search returns such data as the date and results of the last inspection. This is needed to guarantee you safety of driving. You will also see the accident history.
If you want to know more, like the car type, engine specs, odometer readings, salvage and repair records, and recalls by a manufacturer, try looking up the VIN number. It takes as little time as this short license plate check. The only data not provided here is personal information of the car owners. This data is protected by law, just as the personal data of those who use our online tools. We work quickly and anonymously.
So, the next time when you go for use cars or simply suspect that someone's car is out of order, check the license plate and protect yourself from a reckless purchase.
Beckley
Bluefield
Charleston
Clarksburg
Fairmont
Huntington
Martinsburg
Morgantown
Parkersburg
South Charleston
St. Albans
Vienna
Weirton
Wheeling