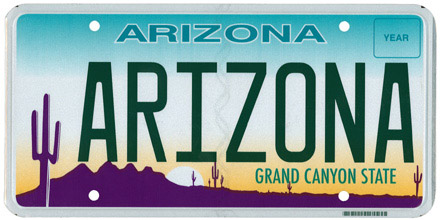 Arizona License Plate Design
Arizona Plate Serial Formats:

ABC1234
The great Arizona state (AZ) is famous for its Grand Canyon, desert, saguaro cactus, haboobs and monsoon, which often aggravate one of the most common hazards in the United States, the floods.
In fact, a flood damaged car is a bad choice when it comes to buying a used car, especially because of hidden damage that water can do rusting small details that are hardly seen, in particular in the engine. No matter how shiny and new a car may seem after being repaired, there is always a risk that in the near future it will force you to spend quite a bit of money on the maintenance to keep it working like a clock.
In order to avoid these nasty surprises, you should perform an Arizona license plate lookup. That means receiving all the vital information concerning the code which corresponds to your vehicle from several databases.
It would be a real issue to discover that you bought a vehicle that has had several accidents only after closing the deal, maybe because the visits to your mechanic have become quite frequent and you now understand that the condition of the car is not so good.
Or maybe you thought that everything is alright because the odometer reports a reasonable number, but the vehicle has travelled much more miles and now you have to face several problems here and there due to wear.
Such problems are easily avoidable if you make an Arizona license plate lookup free. If you are considering to buy a used car, you have to do that consciously. Otherwise, you risk to run into some troubles and face really unpleasant consequences.
Arizona License Plates Search
Another important info that you can get with a handy VIN code tool on our site is about lien and repossession records. It means that if the owner of the car used the vehicle as a collateral for a loan, you will know it. Therefore, you could avoid getting involved in any unpleasant situations.
Furthermore, you will know everything about the service and inspection history of the car. If the vehicle has always been kept in good conditions with a regular maintenance, it has better chance to work on for a long time yet. So, the detailed information provided in the report will make it easier to understand if the car has been preserved well.
Our easy-to-use VIN decoding tool offers really complete reports that bring you all the useful information you may need. Our reports include:
Accidents History
Reported Odometer Readings
Lien & Repossession Records
Theft & Recovery Records
Flood, Hail and Fire Damage
Mileage Rollback
Vehicle Specifications
Personal, Taxi or Police Use
Service, Inspection, and Registration History
A high quality report must have up to date and correct information. It means that the databases have to be trustworthy and contain constantly updated information. We always want to bring you the most reliable data. So, to perform an Arizona license plates search we use only official and trustworthy data sources. They are:
U.S. Motor Vehicle Title System (NMVTIS)
Auto Auctions
Insurance Companies
Salvage Auctions
Collision Repair Facilities
Car Dealerships
Manufacturers
Rental/fleet Vehicle Companies
State Inspection Stations
It could seem a long list but, in order to perform an AZ license plate search of high quality, this amount of sources is required.
A license plate lookup Arizona can save you money and time. So, don't wait any longer and use it to get the information you need on the car you desire.
Chandler
Gilbert
Glendale
Mesa
Peoria
Phoenix
Scottsdale
Surprise
Tempe
Tucson