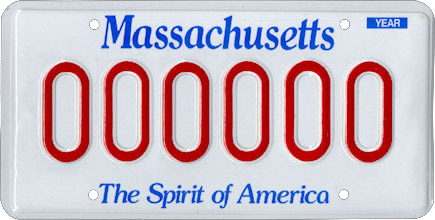 Massachusetts License Plate Design
Massachusetts Plate Serial Formats:

1ABC 23
1AB 234
123 AB4
12A B34
123 ABC
In spite of being a small state, Massachusetts (MA) has one of the most considerable car markets, concentrated mostly in the Boston area. Every year a lot of pre-owned cars are sold but the amount of happy buyers is not the same. Pretty often, buyers expect to purchase a good pre-owned car and save some money but, in the end, they just shell out on maintenance what they have saved before and even more.
Choosing a good pre-owned vehicle is not an easy job because some private sellers, and big dealers too, try to sell damaged cars as almost brand-new. Some imposters even try to sell stolen cars. For these and other reasons, performing a MA license plate lookup is quite a smart decision.
A Massachusetts license plate check will let you know all the vital information about the car you are evaluating. Check out what it includes:
the current owner (without personal data) of the car that you want to check;
the title;
any liens that have to do with the car/motorcycle that is in question;
the time of the previous car inspections;
etc.
That is always a good idea to proceed with a thorough VIN check as it will reveal a lot of other vital info like:
Accidents History. This section of the report will let you know if the car had any accident or was it ever damaged;
Reported Odometer Readings, another vital part of the report. This will allow you to know the last registered mileage of the vehicle, so you will be able to compare it with the one on the odometer in the car and check if everything is all right;
Recalls & Defects. Sometimes a car subject to a recall doesn't receive the right maintenance service so you better check out this field too;
Lien & Repossession Records. This is another important section of the Massachusetts license plate lookup. It will allow you to know if the car is used in a loan or not and, therefore, to avoid getting involved in such scams or financial messes. Otherwise, you could end up paying lots of money that you shouldn't have to;
Flood, Hail and Fire Damage. Nature can be hard, especially here in the US. And such events like floods could damage a car so seriously that no matter how much you try to repair it, it will never be the same because of the rust on the small parts of the engine and other parts too hard to see or repair. Checking this out could spare you wasting your time and money for a car that doesn't worth it;
Vehicle Specifications. You should compare the real conditions of the car with what you find in the report. We suggest you pay particular attention to the body color and the tires;
Personal, Taxi or Police Use;
Service, Inspection, and Registration History;
Mileage Rollback;
Along with all this information, in the report, you will find other insights too.
Check Massachusetts License Plate
Some of the databases don't update their information as frequently as they should and this could undermine the quality of the report you get.
To realize our Massachusetts license plate search we rely only on trustworthy and updated databases, in order to offer the most accurate and up to date information possible. Such reliable sources are the U.S. NMVTIS, canadian motor vehicle agencies, car auctions, assurance companies, car operators, car makers and a few other trustworthy databases.
Our search tool is really fast and allows you to perform a Massachusetts license plate number lookup in record times. Don't take our word, try it out! Our time and money are both really precious and making a MASS license plate search will make you save both of them.
So don't wait any longer and try out our really handy tool now!
Boston
Cambridge
Lowell
Springfield
Worcester