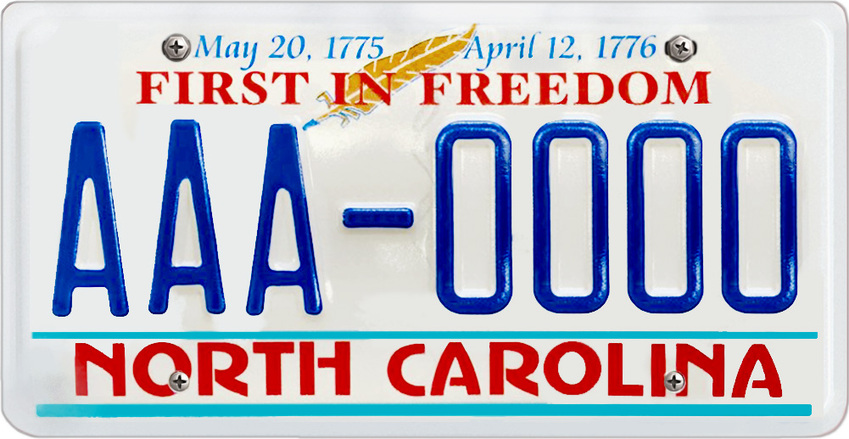 North Carolina License Plate Design
North Carolina Plate Serial Formats:

ABC-1234
If people were really haunted by their wrongdoings, most of the car dealers would wake up cold of fear every night. Selling stolen vehicles, license fraud, tampering with odometer, skipping safety inspections, brand washing and tons of other lies could potentially bring spirits of too many drivers from nearby graveyards. One example of the many, a resident of North Carolina was sentenced to 18-months imprisonment for falsifying over 500 emissions inspections.
But ghost doesn't come to the North Carolina dealers. So, the drivers looking for used vehicles should prevent unsafe deals on their own. One of the means to check vehicles before purchase is North Carolina license plate lookup.
Technically, this is an online search engine available from any device. It gives you car details in exchange for the number on its license plate. The search does not last long and works confidentially. You can get vital information such as odometer readings, accident and inspection records, and theft reports about the car right at the time when you are checking it.
An Algorithm
Step 1. Find the number. North Carolina license plate search begins with looking for the number on a vehicle license plate. The state issues plates with white background and a slogan, either "First in Flight" (with a picture of a plane) or (since 2015) "First in Freedom". The plate may be located on the front\rear part of a vehicle, depending on its class. Motorcycles and dealer cars must definitely have at least one plate on the rear. Every plate should have a sticker with expiration date.
Step 2. Enter the number to our system. The actual lookup will last up to 2 minutes. Once it is over, you will see:
The title and VIN. You can also check VIN to see the model of a vehicle, its color, details about engine, manufacturer and recalls.
Liability issues. Is a vehicle registered properly? When was it last inspected? What did the inspector find out? Does a vehicle belong to the owner stated on the license? Has it been reported stolen or sold on the gray market? We won't leave these questions without answers.
Accidents. There will be a record of major accidents in which a vehicle has ever been involved.
Liens, repossessions, and other property issues. You will know at once if someone still owes the money for a vehicle. You will also get access to the information from insurance companies.
Damage from flood, fire, and other disasters. Recalls by manufacturers. See whether there are any issues that have not been tackled.
Mileage and odometer readings. These metrics are misrepresented so often that this is not even funny.
Other details about the condition of a vehicle.
Mind that you won't get any personal details of vehicle owners. We also won't disclose yours.
Step 3. Take action. Ask questions, decline unfavorable deals, investigate the matter farther. Try to protect yourself by a couple of more useful tricks:
Look for the dealers with limited warranties. Any written agreements pose a danger to the business made on unsafe vehicles.
Double-check the license plate data by a VIN lookup.
Compare the current readings of odometer with what is recorded (and with the dealer's statement).
If this is possible, take a car to a trustworthy mechanic, even for an extra payment.
Don't trust anyone.
The deal is worth thinking twice, because once it is done, it is done. When you buy used cars, there is no time to think after the purchase is over. So, try to research as much as possible ahead of that time.
Records Sources
The information stored in the system comes from a variety of sources such as open databases, official records, auto auctions, accident and theft reports, consumer rights inspections, insurance providers, auto inspection services, and so on. You are free to use this data without any prosecution, as it was made available publicly.
North Carolina Division of Motor Vehicles (DMV)
3114 Mail Service Center
Raleigh, NC 27697
(919) 715-7000

Apex
Asheville
Burlington
Cary
Chapel Hill
Charlotte
Concord
Durham
Fayetteville
Gastonia
Goldsboro
Greensboro
Greenville
Hickory
High Point
Huntersville
Indian Trail
Jacksonville
Kannapolis
Monroe
Mooresville
Raleigh
Rocky Mount
Salisbury
Wake Forest
Wilmington
Wilson
Winston Salem