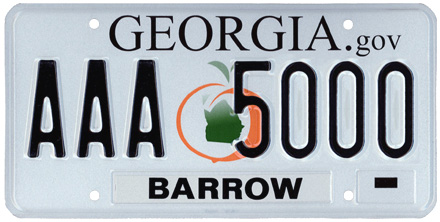 Georgia License Plate Design
Georgia Plate Serial Formats:

ABC1234
On the surface, license plates don't tell much. They are just combinations of characters. But once we look deeper, it turns out that license plates can be used to uncover the identity of a car owner, see the real mileage and condition of a vehicle, and much more.
Georgia, or GA, issues license plate for all types of vehicles (motorcycles, cars, vans, trucks, RVs). A typical number on a plate consists of digits and letters. Occasionally, a driver may order Georgia personalized license plate of 7 characters or less. Specialty plates must have no words of defamation and no misleading self-definitions (such as 'police'). The state ask drivers to renew registration on a regular basis. This is why the majority of license plates have decals with expiration date.
Georgia license plate lookup is an online service that quickly collects public information about a vehicle using its license plate number as a reference. It is extremely useful for buying used cars. Car dealers have many ways to trick customers. They may fabricate or conceal VIN, trying to hide important details like unrepaired breaks or problems with registration. A quick checkup will help you protect yourself from that schemes.
Results of Reverse GA License Plate Lookup
GA license plate lookup takes several minutes. You need to enter the number from a license plate in a form and wait until the results appear.
Here is what you will see after a quick Georgia license plate lookup:
Title of a car or another vehicle.
Registration details.
A warning about theft or possession.
A record of recalls and repairs.
A full record of major accidents.
Information about other damage like floods or fire. Salvage records.
Current and previous liens against a vehicle (with holders and due dates).
Mileage and odometer readings.
Date and results of the last inspection.
Use by the police, taxi, or fleet.
VIN.
The latter helps drivers get even more information. VIN decoding gives access to such details as the model of a vehicle, description of its engine, manufacturer, the number of owners, and plenty of other details. However, free license plate lookup Georgia search won't show personal data of car owner, as this practice is illegal.
Why License Plate Check is Important
Many drivers ask why getting the car history is such a big deal. Those who ask these questions haven't come across car dealer tricks:
when dealers are trying to sell a damaged vehicle but the defect is not evident;
when vehicles are being stolen or resold;
when consumers get liens together with their purchases;
when vehicles have been spotted on a gray market, causing problems to new owners.
Checking license plates and VIN won't save you from all the misfortunes. But why not prevent at least a few?
Where the Data Comes From
To get these results, we use a variety of sources:
records of state DMV;
auctions of cars and motorcycles;
Canadian authorities;
insurance companies;
agencies of consumer rights protection;
public databases;
auto dealers and others.
As this information quickly gets outdated, we double-check the list on a regular basis.
A variety of sources is the key characteristic of online services as opposed to official search engines like the DMV's one. The authorities won't provide information about gray markets or car repair, but we do.
The search is anonymous
You won't have to reveal your identity checking a vehicle. We only keep the data from car dealers which, by the way, is always double-checked). Information about consumers is not used in any other activities but re-designing the system when it gets out of date. So, get your safety reports and enjoy the bargain.
Georgia Motor Vehicle Division (MVD)
4125 Welcome All Road
Atlanta, GA 30349
(855) 406-5221

Athens
Atlanta
Augusta
Columbus
Macon
Sandy Springs
Savannah