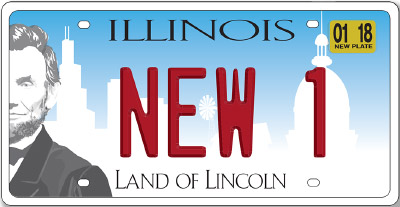 Illinois License Plate Design
Illinois Plate Serial Formats:

AB 12345
AB1 2345
In spite of not having a large land area, Illinois has one of the most considerable economies of the country. Therefore, the car market is one of the largest here. In terms of pre-owned vehicles, the range of choices is pretty high. So, usually, people with enough patience have good chances to find what suits them the most.
Buying a used car can make you save money, even huge sometimes. But it's not always so great. How would you feel if you saved a few thousands of bucks and then you would have to spend twice that amount, or even more?
The fact is that you must always be careful when it comes to purchasing a pre-owned vehicle. That's why it is always a wise choice to perform an Illinois license plate lookup. This will make you aware of the vehicle history and let you choose what to do with more confidence.
This kind of report can give you a lot of useful information. So, since you may not be aware of what information a license plate lookup Illinois can offer you, we noted down the most important:
the car owner at the moment;
the title (whether it is the same as the one that is given to you);
any liens that the car/motorcycle is associated with;
the time of the car inspection;
other useful data.
Beside Illinois license plate search we advise you should do an in-depth VIN check. It will bring you the following info that can be of a great importance as well:
Accidents History. It may be the most important one. This section lets you know whether the car had any accidents.
Reported Odometer Readings. This part of the report will make you aware of the true mileage of the examined car. If you compare the number on the report with the one on the odometer in the car and find out that they are too different, this is a red flag. It's better to look elsewhere.
Recalls & Defects. This part of the report will let you know if the car belongs to a recall lot or it has any defects.
Lien & Repossession Records. Certainly you will not be happy, if you discover that the vehicle you just bought was adopted in a loan and now you have to shell out money just because an imposter involved you in his financial mess. This section will help you avoid such a possibility.
Flood, Hail and Fire Damage. The nature can be hard sometimes and a car that was damaged by a flood it's not an advisable choice, because the rust could cover some parts of the car that are hardly seen.
Get your license plate check Illinois here in a matter of seconds!
Any expert buyer would suggest you make an IL license plate number lookup, because you really may never know who you are dealing with. And our license plate lookup Illinois free service is a great way to get the information you need really quickly.
But we also suggest you to perform a mechanical inspection. An honest seller will allow you to do so without much resistance and you will be able to find eventual problems that you can't see out by yourself. So, along with our Illinois license plate check, a visit to the mechanic is a smart investment if you are considering buying a car.
Our license plate number lookup Illinois service is here to help people to purchase a vehicle safely and quickly. So, don't wait any longer and try out our free great tool.
Illinois Department of Motor Vehicles (DMV)
213 State Capitol
Springfield, IL 62756
800-252-8980 (toll free in Illinois)
217-785-3000 (outside Illinois)

Arlington Heights
Aurora
Bloomington
Bolingbrook
Champaign
Chicago
Cicero
Decatur
Des Plaines
Elgin
Evanston
Joliet
Naperville
Orland Park
Palatine
Peoria
Rockford
Schaumburg
Skokie
Springfield
Waukegan