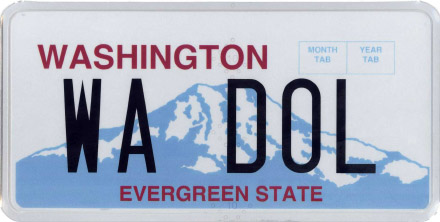 Washington License Plate Design
Washington Plate Serial Formats:

ABC1234
123-ABC
The state of Washington is known too well in the car dealer world. Some of the local laws create ideal conditions for fraud, both inside and outside of the state. Roughly the same happens in some other states like Minnesota.
The trouble is with the dealer's licenses. In Washington (WA), it is easy to become a wholesale dealer without regular working hours. One just pays a fee, sets up an office (often just in a garage), and pretends to be operating at a large scale. There are third party companies that offer individuals an easy way to enter the world of wholesale dealers. No one actually cares how they run the business. Many dealers move away from Washington and practice different schemes outside of the state. Some of the Washington-licensed individuals have been caught in Wyoming, Colorado, and Chicago.
Even if law enforcement agencies in WA deal with this issue (sooner or later), how can drivers and car buyers avoid fraud now? Washington license plate lookup is part of the safety measures. Here they are, one by one:
Online search toolkit like Washington state license plate lookup lets drivers get vehicle details digitally ahead of a purchase. In the matter of minutes, you can get VIN, title information, notifications about theft, odometer rollback, untackled recalls, liens and other unpleasant things.
Help of the state department of licensing (DOL). This institution gives clear instructions on changing and registering license plates.
Common sense. People examine every detail of a vehicle before they sign the contract, do test drives, and refuse to buy from suspicious dealers.
Washington license plate lookup is free of charge. It is based on an ongoing compilation of the data from local and out-of-state auctions, public databases, records of accidents, info from auto dealers and insurance companies, records of inspections and repair stations, agencies that protect consumer rights and other more or less reliable sources. If you are about to buy a used car in Washington, hurry up to use WA state license plate lookup to your advantage.
License Plate Search. Washington State Car Fraud Schemes and Ways to Prevent Them
There are several main ways to fraud customers that can be prevented by license plate search in Washington state:
Re-using VIN number from other cars, or cloning. An online search by license plate number will return you VIN. Just for a start, compare this online record with real VIN on the door or the windshield at the driver's side of a vehicle.
Altered documents and fake titles. Once again, Washington state vehicle license plate lookup will show you all the records associated with car title, so you have the chance to spot anything wrong. Additionally, the tools indicates the possibility of car theft and repossession.
Tweaking odometer readings. Naturally, car dealers want you to believe that the mileage is less than it really is. Luckily, online VIN and license plate search in WA instantly shows real odometer records.
Re-selling stolen or recalled cars. When a dealer doesn't care about his own license, how can a customer be sure that he cares about the origin or the condition of a vehicle? there is no way to check but online DBs.
Using pieces from salvage cars. This violation is hard to spot, but at least you will have damage and salvage records on display.
Legal issues
This search tool does not display personal information about past or present car owners, as this is considered the violation of the laws that protect privacy. We balance unreliable sources (such as car dealers and auto insurance) with the info from other sources.
Bellevue
Everett
Kent
Renton
Seattle
Spokane
Tacoma
Vancouver