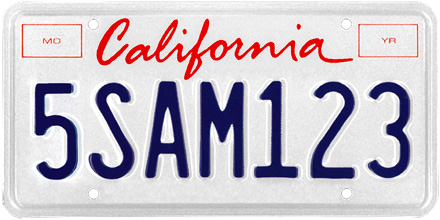 California License Plate Design
California Plate Serial Formats:

1ABC234
California (CA) has the largest economy and the biggest car market in the United States. Of course, in such conditions the number of used cars that are being traded is really huge too. Therefore, there is always a great range of possibilities concerning the car selection. So, there is a higher probability of closing a good deal.
However, as experienced car owners may know, purchasing a used vehicle is not always a piece of cake. Maybe the truck you are considering to acquire looks shiny new outside and seems to be in good conditions, but after a short period you could be forced to pay frequent visits to the mechanic and spend big amounts of money to keep it working.
If you want to avoid getting involved in bad deals, you should do a proper California license plate lookup. In order to perform it correctly, we offer you to use our handy and user-friendly CA license plate lookup tool. If you rely on it, you will be provided with a detailed report on the car conditions and its history. Here's what you will find in it:
Information about accidents or damages. Pay particular attention to this part of the report. The same line could mean both a car accident and any kind of damage from external factors like vandalism or fallen trees.
Odometer Indications. This section of the California license plate check will inform you on the amount of driven miles. So, comparing the report data with the indications on the real odometer, you could check out if everything's all right with the mileage.
Recalls & Defects of this particular car model
Lien & Repossession Records. This will allow you to know if the vehicle was used as a financial promise in a loan and, therefore, avoid to getting involved in any kind of financial mess.
Theft & Recovery Records will allow you to know if the vehicle was ever stolen. It's one of the most important info you will get from the California license plate search.
Flood, Hail and Fire Damage
Mileage Rollback
Vehicle Specifications. Check out the standard equipment of the car and make sure that everything is in place. Pay particular attention to the body colour and the tyres.
Personal, Taxi or Police Use
Service, Inspection, and Registration History
Basically, this is the most important information you will get from the license plate search California service if you order a report from us. We'll deliver a detailed report in the blink of the eye. You'll get it in a couple of minutes. Check yourself!
CA License Plate Reverse Lookup
As far as the CA license plate number lookup and the reverse license plate lookup California services are concerned we use a fair amount of reliable sources to create it for you:
Manufacturers
Car Dealerships
State Inspection Stations
U.S. Motor Vehicle Title System (NMVTIS)
Canadian Motor Vehicle Agencies
Salvage Auctions
Auto Auctions
Insurance Companies
Rental/fleet Vehicle Companies
Collision Repair Facilities
In order to provide high quality reports, we always perform a profound research on different databases with the most accurate and up to date information. So, if you use our services, there will be nothing to worry about. You'll be able to rely on the info you'll get.
You could check our site tools also if you are looking for a license plate lookup free California service. Making a license plate lookup California free is easy and fast here. We are excited to invite you to try it.
So, don't wait any longer and check out how much easier it can become to buy a car safely and without any risk!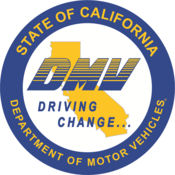 California Department of Motor Vehicles (DMV)
2415 1st Ave,
Sacramento, CA 95818
(800) 777-0133

Anaheim
Antioch
Bakersfield
Berkeley
Burbank
Carlsbad
Chula Vista
Clovis
Concord
Corona
Costa Mesa
Daly City
Downey
El Cajon
El Monte
Elk Grove
Escondido
Fairfield
Fontana
Fremont
Fresno
Fullerton
Garden Grove
Glendale
Hayward
Huntington Beach
Inglewood
Irvine
Jurupa Valley
Lancaster
Long Beach
Los Angeles
Modesto
Moreno Valley
Murrieta
Norwalk
Oakland
Oceanside
Ontario
Orange
Oxnard
Palmdale
Pasadena
Pomona
Rancho Cucamonga
Rialto
Richmond
Riverside
Roseville
Sacramento
Salinas
San Bernardino
San Diego
San Francisco
San Jose
San Mateo
Santa Ana
Santa Clara
Santa Clarita
Santa Maria
Santa Rosa
Simi Valley
Stockton
Sunnyvale
Temecula
Thousand Oaks
Torrance
Vallejo
Ventura
Victorville
Visalia
Vista
West Covina