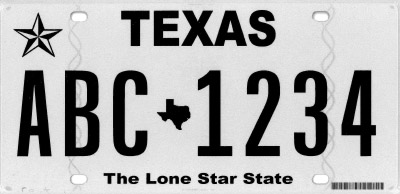 Texas License Plate Design
Texas Plate Serial Formats:

ABC-1234
Fans of the Netflix series 13 Reasons Why will remember how a teenager wrote "Why me?" on his schoolmates car. Unfortunately, real-life cars don't have any indications of crimes on them. Even when they do, dealers try to hide them by all means and succeed. Unless you use Texas (TX) license plate lookup.
A quick Texas license plates search reveals all the secrets that are so dear to vehicle sellers. Insert the number, press the button, and you will instantly see who owns the car, what its real condition is, and anything like this. Modern license plate lookup Texas tools can even render you VIN when you only have the number from a license plate. This gives you even more exciting opportunities, up to tracking the entire history of a vehicle no matter how old it is.
Texas License Plate Check
DMV records, motion trackers, insurance companies, gas stations - you've seen them countless times. This surveillance army makes most of the drivers quite unhappy... until it's time to purchase a new car. Just as regular drivers, car dealers cannot help getting on record.
License plate search Texas collects all the data about vehicles across documents and devices. It tracks car history in a matter of minutes and returns you a full record (beside personal data, which is prohibited by law).
Let's look at a hypothetic example of Texas license plate lookup. Say, you are about to purchase a fine grey Toyota Camry and do a free look up license plate (Texas) just in case. Suddenly, the search returns a really bad record. In addition, it appears that the car title on the paper does not match its real title.
Of course, search results may be not that explicit. Pay attention to small details like mileage or accident history. Look closely whether the data found by search engine has anything to do with what dealers tell you. If it doesn't, there are reasons to be worried.
Complete List of Possible Search Results
Aside from the car title and specs records, you can obtain:
the full record of accidents;
reports on theft and/or liens;
odometer readings, as recorded at different times;
use by governmental institutions;
list of defects;
reported damage from flood or fire;
a real mileage info;
type of the car and engine, manufacturer, color, and other specifications;
Part of this data is accessible directly by license plate search. Another part can be found by the subsequent VIN checking process. The latter does not take too much time either.
Having seen this list, you may wonder whether getting access to it is even legal. The answer is yes, with a small exception. Officially, you can't get personal data of the previous car owners. Still, you can figure this out by logic or get the data by contacting local law enforcement agencies.
More on License Plates in Texas
Texas DMV issues both front and back plates for different types of vehicles: motorcycles, mopeds, trailers, cars, and others. There are now seven digits on each plate due to population growth in the state. When buying vehicles from dealers, you are expected to get new plates right after getting a new title. If you deal with private sellers, local DMV requires to register new plates on your own.
Recently, the police in Texas acquired a new technology (high-speed cameras) that enables to collect fines on the spot. What is more, the cameras will collect your data and record all your car-related interactions. So, be careful on the roads and at car dealers' places.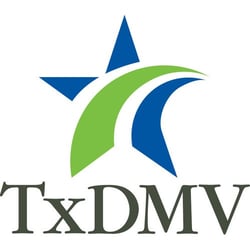 Texas Department of Motor Vehicles (TxDMV)
4000 Jackson Ave.
Austin, TX 78731
(888) 368-4689
(512) 465-3000

Abilene
Amarillo
Arlington
Austin
Beaumont
Brownsville
Carrollton
College Station
Corpus Christi
Dallas
Denton
El Paso
Fort Worth
Frisco
Garland
Grand Prairie
Houston
Irving
Killeen
Laredo
League City
Lewisville
Lubbock
McAllen
McKinney
Mesquite
Midland
Odessa
Pasadena
Pearland
Plano
Richardson
Round Rock
San Angelo
San Antonio
Tyler
Waco
Wichita Falls