Carl White
November 20, 2016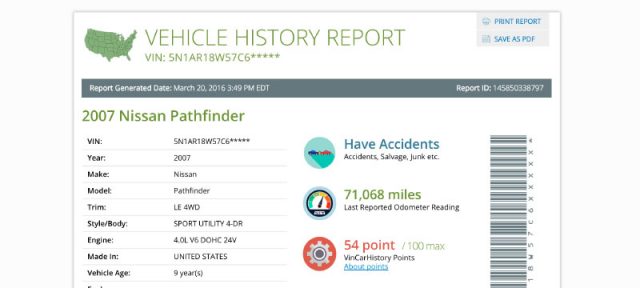 Buying a used car can be a daunting task with a lot of questions that you have to ask yourself. Ford, Toyota, Dodge, Honda or Chevrolet?? Black, Blue?? How many kilometers is too many? And than of course you spend countless hours driving around used car lots and looking around on the internet.
Once you find the dream vehicle that you have been looking for, the important questions start to bounce around in your head. Has the odometer ever been rolled back in this vehicle, has it ever been in an accident, is this vehicle going to need major repairs in the near future? These are just some of the headaches that cause car shoppers to stress out over the second largest purchase in their life.
Thankfully there are companies that can help us answer some of these questions, and make answering those questions very easy. Two of these companies, FAXVIN and CARFAX can answer these important questions about the history of the vehicle you are looking at very quickly. This allows the car buyer to maximize spending their time on the important things, like what color should I pick?
CARFAX Report Alternatives
Most people at some point in their lives have heard of the company CARFAX. This company provides people with a report that will provide you with information for your vehicle purchase such as, major accidents, flood damage, airbag deployment, and even open recalls that pertain to the vehicle that you search. But did you know there are alternatives to CARFAX? FAXVIN is one of those alternatives.
CARFAX charges a large fee, $39.99 per report to provide you with the information that you are looking for, however FAXVIN provides that information for a much lower price, only $8.95 per report. People wonder how FAXVIN can provide a report for only $8.95, that's easy. By using different revenue streams that are not dependent on customers being billed they can provide customers with a report that not only provides them with the same information that a CARFAX report would offer but they can provide it at a much lower price, providing better value to their customers.
What about Searching for the Information Myself?
After searching for used car reports, customers often wonder. Instead of paying a small fee, maybe I could search the information up myself, this is easier said than done.
First all of the information provided to you on the FAXVIN report is public record, but collecting all the proper information can be difficult. Contacting all the state motor vehicle departments takes time, just try looking up 50 different phone numbers and email addresses for all those states, all while realizing these agencies can charge you a small fee for the data.
After contacting all these agencies you might also have to contact insurance companies and other agencies that have information regarding your vehicle. Imagine if you had 3 different vehicles you were looking at, your problems just multiplied.
Mechanical Inspections Are Important
One thing FAXVIN and CARFAX have in common is, they cannot tell you the current safety of the vehicle that you are driving. By using FAXVIN and a local mechanic that you trust is the best way to determine the complete condition of your car, truck, bike or RV.
A mechanic can take a look under the hood of the vehicle and see if there are any possible issues that will cause you headaches in the near future. Also, because they are around vehicles all the time, mechanics can notice if there was body damage that was repaired but not reported. They can also tell you if those body repairs were done properly.
By checking various fluids in the vehicle they can gain some information regarding important systems in the vehicle such as transmission issues, which can be costly to rebuild or replace when the time comes. Also by inspecting a vehicle they can give you an idea if they think that the odometer was possibly rolled back. Sometimes a worn out brake pedal cover just does not look right on a vehicle that only has 15,000 miles.
These are not all of the reasons why you should always get a mechanical inspection for your vehicle but gives you an idea of what a good mechanic would look for when you request they do a pre-purchase inspection for you. While providing you with great information about the vehicle you are purchasing, they can also provide you with a quote for the repairs that will be needed on the used car you are looking to purchase. Sometimes these estimates and a copy of your FAXVIN report will give you extra bargaining power and possibly lower the final price when you are finalizing the deal on the vehicle.
How can FAXVIN Help Me?
By being an alternative to CARFAX, FAXVIN will help you by providing you with the most up to date information on your vehicle. This information often includes, vehicle specifications, environment report, manufacturer info, recalls and defects, and alternate listings just to name a few. By knowing if the vehicle has an open recall you can contact the manufacturer and find out what the recall is and how it could affect the vehicle you are buying. Possibly the option you love, like heated windshield washer fluid will be removed when completing the recall, this very thing happened to some Chevrolet owners years ago. Sometimes you will find information that is not ideal, the vehicle may have been in an accident or a used car lot may have turned back the odometer on that used car you were looking at. Other times you will find out that the car of your dreams is exactly what you were told, the car of your dreams.
Hopefully this information has helped you with determining which alternatives to CARFAX would be best for you. Remember the next time you are shopping for a used vehicle to complete these two easy steps, have a mechanic check out the vehicle for you and get a FAXVIN report to help you make the most informed decision possible.